Where's the best location to get to know a new Sign Installation Technician? On the job site, of course, since that's where they spend most of their time.
We met up with Zach Dominguez at Oak Creek High School, where he was working on the sign patterns for their new signage. Welcome aboard, it's great to have you on the team!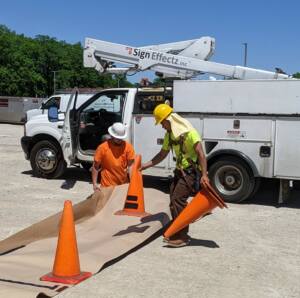 Question: Where did you work before joining the Sign Effectz installation team?
Answer: I did some contracting work in carpentry and electrical and was working on my certification. The plan is for me to continue that process in the near future, we'll play that by ear for now.
Q: What's your favorite part about working at Sign Effectz as a Sign Installation Technician?
A: I've been with the company for about 3 months now and love seeing it all come together. Design. Fabrication. Installation. Seeing the expression on the customer's face when it's installed and fired up for the first time is priceless. And our fabrication guys really do a great job prepping the signs the right way, making installation a smooth process.
Q: As a company, we like to have our newly hired sign technicians learn the trade both in the shop and in the field. It enhances the learning experience by giving them opportunities to help solve real challenges that may come up. How many new sign installations or LED retrofits have you participated in so far?
A: About 80 or 90. That includes an LED lighting retrofit at the Piggly Wiggly grocery store in Elkhorn, Wisconsin which is where I grew up. It's very cool to see a sign like I've known since my childhood gleaming with LED technology.
Q: What do you do in your spare time?
A: I spend a lot of time with my family.