Fowler Lake Village Condominiums are in Oconomowoc, Wisconsin, a Milwaukee-area location that is undergoing tremendous growth. The property features numerous on-site amenities, an art gallery, luxury condos and eight high end retailers.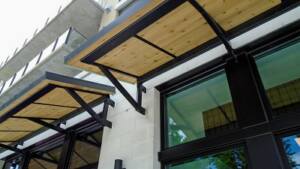 According to Josh Brown, Sign Effectz, Inc. Account Manager, "This project was a great demonstration of our versatility. We helped with the canopies, making the customer's desired materials a reality. Cedar undersides, steel frames, and standing seam roofs."
Highly Creative Signs & Sun Control Canopies
The exterior retail sign package was designed specifically to accent the distinctive sun control canopies. Working closely with our Fowler Lake Village contacts, we navigated city feedback on the design and landed with a perfect product.
Josh explained, "We also helped the customer with adding an additional Entrance Canopy after the building was finished. The original canopies had tangs mounted to the vertical steel studs during the construction process. That is not feasible once the building is all closed up / finished. We made it work via through bolts and match plates."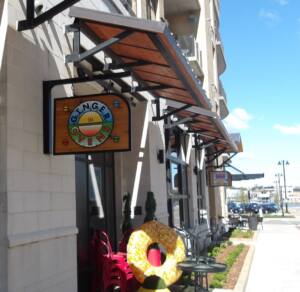 Our design team captured the village's creative atmosphere with 8 retail shop signs. They feature L-shaped brackets attached to a wall. Each colorful panel sign hangs by two locking clips with secure fasteners hooked to eyelets.
ADA Compliant Signs
The package we designed, built and installed also featured color-coded interior ADA compliant signage, which is an essential element in meeting occupancy deadlines.
The designers at Sign Effectz expertly combined materials, substrates, colors and images to build the village's new ADA compliant signage.  They teamed up with Sign Effectz's in-house project manager who handled everything. That means our customers don't worry about whether target occupancy dates will be met or whether their ADA signs are up to code.