Nothing grabs attention like incredible sign design. That's a big reason why we're very excited for The Bindery and their amazing new signage. It's doing exactly what it should do: draw attention and make an impact.
The Bindery is as unique as its new sign. It's a creative laboratory for book, print and literary art in Milwaukee, Wisconsin. The facility they are renovating includes writers' studios, co-working and retail space, plus an old school bindery, micro-press and metal type foundry. It's also one of the first Benefit Corporations in Wisconsin. Benefit Corporations meet certain standards for social and environmental performance.
INCREDIBLE SIGN DESIGN
One of the first things you'll notice about their new sign is the shape of the book and the clever gold color bookmarker.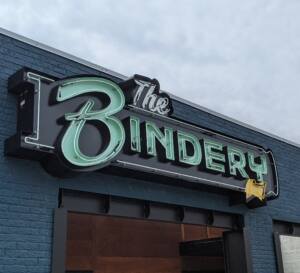 According to Zachary Lifton, Director of The Bindery, "The new sign embodies our logo design in numerous ways. I didn't want a sign that was simply a vinyl version of our logo slapped on the building. There is too much heritage in our brand for that." The goal was to adapt the existing logo into a sign that would serve as a "nod to history of The Bindery".
EXPERT SIGN PROJECT MANAGEMENT
We are very proud to have collaborated with Zachary, Jeff Williams (a rock star sign painter in Milwaukee) and our neon supplier on this project.
Since this project involved a number of stakeholders, we brought our "A" game when it comes to project management. In addition, we supported the client on sign design, fabrication and installation. This was another great opportunity to demonstrate our communication skills and ability to juggle a complex project from start to finish.
Zachary describes it this way, "This was undoubtedly a complex project working with some old school techniques and several moving parts. Throw in communicating with the neon company and a picky client, it required expert communications on the part of Sign Effectz. I can't say enough good things about how well their process went. Their project management expertise was key to success."
BUILT FOR IMPACT
The team's effort paid off – this new sign underscores the power of marketing. Zachary reports that the backend analytics of The Bindery's website exploded the day that the sign went up.
"This innovative sign design sets an entirely new standard!" said Michael Dlugi, Sign Effectz, Inc. Account Manager. "We are so pleased that Zach is impressed with the outcome; their new sign gives The Bindery the attention it deserves. And this was an outstanding opportunity to demonstrate our deep project management experience."
What's next for The Bindery? It's participating in Bayview Gallery Night on June 25, 2021. They're sure to draw a lot of much-deserved attention.