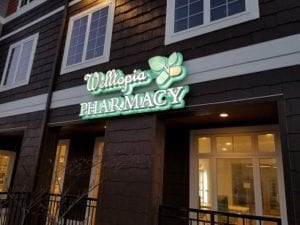 Welltopia is a startup pharmacy in Thiensville, Wisconsin that combines the convenience of a pharmacy with the hands-on care of a wellness center. Their business philosophy is similar to ours. Both companies believe in highly personalized customer service.
The owners of Welltopia came to Sign Effectz, Inc. to solve a sign design challenge. There are many options to choose from when designing a new sign.  Our role was to help in the decision-making process.  We took the hassle out of sign design by showing them ways to adapt a logo designed for small applications come to life in large format. It's critical to factor in how and where a sign is installed in the early stages. And it's vitally important to showcase your brand to potential customers in the neighborhood (#BuyLocal).
After considering several sign types, our initial work with Welltopia included two exterior signs (one set of channel letters and one blade sign). We contributed to the project by helping with sign design, permitting, fabrication and installation. A year later we created an acrylic interior sign, which was a smaller version of his exterior sign, keeping faithful to the pharmacy's carefully crafted branding.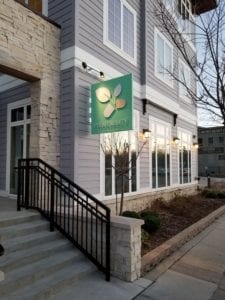 Account Manager Josh Brown is happy to report that this project came in under budget and Sign Effectz delivered everything Welltopia was looking for (#SatisfiedCustomer).
According to Josh, "Like most of our sign projects, we had a lot of fun helping the client solve their biggest design challenges. As an owner of a new business, they are very excited, especially about the new interior signage. In fact, they brought us in to help with their colleague's business, which is a café in Mequon, Wisconsin. We branded a 40 square foot product merchandising area in the café."