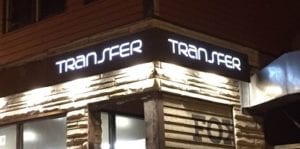 Building renovations often present challenges that are opportunities in disguise. That's the case with a popular pizzeria in Milwaukee, Wisconsin called Transfer Pizzeria & Café.  During exterior renovation, the owners removed a large steel band that ran across the building.  Once it was removed, the building had a big, blank, horizontal line.  This presented a great opportunity for them to brand the property.
During our discovery meetings, owner Russell Rossetto, told us their goals, showed us around their carry out / delivery portion of the restaurant and discussed several potential sign concepts and a budget.  It is strategically important for them to brand this part of their business.
Initially, they considered a custom-built canopy, which can be an effective way to grab attention for a retail brand.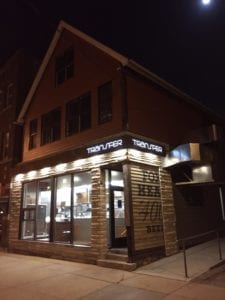 However, they chose an electronic banded sign, because it's vivid and better suited the industrial feel of their brand and location, which is in an eclectic area, just south of downtown Milwaukee.
Josh Brown, Sign Effectz Account Manager, coordinated the sign permits for the new sign and reports that the project complied with their budget. Josh points out several unique aspects of the relationship and signage:
Sign Effectz, Inc. has a history with the owners of Transfer Pizzeria & Café as we built and installed their exterior blade sign in 2012.
Modern Masters brand paint gave the new sign it's rusty-looking appearance, without having the concern over material degradation that comes from rust.
We used large industrial rivets to affix the sign, this gave the sign its desired industrial feel.