Glenn Rieder, Inc. provides architectural millwork and custom interior finishes from Boston to Hawaii. They're growing rapidly and as a result needed new office space in Milwaukee, Wisconsin. In order to brand the new space, they contacted Sign Effectz.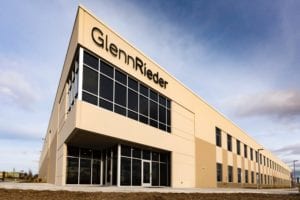 The project started with three types of new signs:
Halo lit Channel letters – 3' tall
Receiving Department sign
Address letters
They were very satisfied with our initial sign work so they asked us to build and install the interior signs for their lobby and conference rooms as well as a new monument sign. The package included accent vinyl on the exterior, large letters identifying their shipping & receiving department and corporate branding on their interior and exterior windows. Our sign manufacturing crew is currently finishing their monument sign.
According to the Sign Effectz, Inc. Account Manager, "Both Glenn Rieder and Berghammer Construction (the contractor on the project) are great to work with. They rely on our deep experience with interior and exterior signs and put their trust in us to get it done.  We've been given the freedom to use our professionalism and integrity to deliver signage they're proud of. They set hard deadlines and we met them."
Zimmerman Architecture designed the original signage project and Sign Effectz designed the interior signage (Adrian Esguerra).  You know when the design resonates with the client when they sign off almost immediately!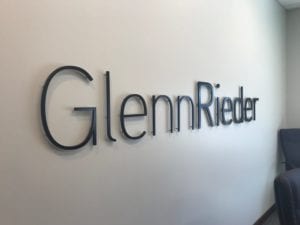 "…did a great job on the Glenn Rieder project. Once selected, he stayed on top of the process and kept our team informed about the timing and installation of the sign. The quality of the work was very good…" – James Parks Berghammer Construction