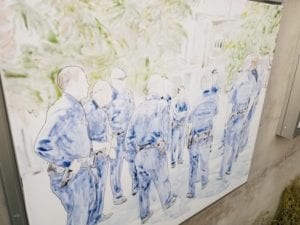 The how-to magazine for the sign industry, Sign Builder Illustrated, told the story of our collaboration with California-based artist Deborah Aschheim. She was commissioned to create art for the Los Angeles Police Department training academy.
The art work connects new generations of law enforcement officers with the history of the LA police force. The project features Deborah's watercolor drawings translated into powder coated metal.  14 of the watercolor artworks have a second layer of tempered glass with a black line drawing that "floats" above the color layer.
Click here to check out the article in the April, 2018 issue of Sign Builder Illustrated.