Corey Jeffrey was born to be a sign guy.  He is a third-generation sign maker and is our newest hire for the shop.  Both his grandfather and father were in the sign and graphics industry, starting in Chicago. So you could say it's in his DNA.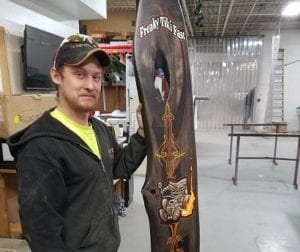 Here at Sign Effectz, we look to Corey for sign fabrication. However, he likes to contribute wherever he can. That's why you'll find him painting, finishing, wiring and installing as well.  Being involved in those operations makes him a better fabricator, one who appreciates all that goes into building a new custom sign.
When it comes to sign fabrication, his favorite operation is welding.  According to Corey, "The best part about this job is that it's different every week. Each sign is unique. And I'm always trying to improve myself with every sign I create."
Before joining Sign Effectz, Corey's career primarily revolved around automobiles.  He's spent a lot of time doing custom paint and hand lettering.  And he's done a lot of sheet metal fabrication.  Previous employers included Valenti Classics in Franklin, Wisconsin and Creative Auto Works in Darien, Wisconsin.
Corey spends free time at the Great Lakes Dragaway in Union Grove, Wisconsin when he's not at work. He considers it his home track for drag racing the truck that he built up from the chassis.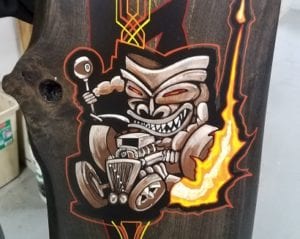 Of course, he's passionate about pinstriping and airbrushing cars.  In the world of pinstriping, they're all different because they're done free hand. They're unique compared to any mass-produced sticker at the auto parts store.