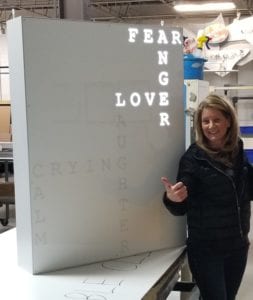 Professional artist, Linda Marcus, was developing unique, thought-provoking artwork for an exhibition called "Breath". The overall project consisted of a series of art pieces that investigate the emotional side of human breath. We helped by illuminating intersecting words that flash on an off. Sign Effectz built the housing, lighting and mechanical for this piece.
According to Linda, "Without their help it would not have turned out so clean and contemporary looking."
She added, "Sign Effectz was extremely professional. They helped me bring my idea to life. Their expertise in creating signs took my art to a new level. It's one thing to come up with a concept, Sign Effectz made it a reality. The piece came out better than I thought. I would recommend Sign Effectz to anyone. Adam and Josh Brown are truly artists at heart. They understand not just the mechanics of making a sign, but they understand the art of communication. They took great care with my idea and helped me to create something meaningful. I hope to work with them again."
To view how cool the artwork is when it's powered up click here.