Our client, Good Land Wing Company, doesn't serve ordinary chicken wings. Fryers aren't allowed in their store because their wings are baked, providing a better nutritional profile than most wing places (#NoFryersAllowed).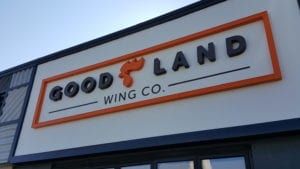 This new restaurant on Milwaukee's popular east side was looking to reinforce its unique brand through signage that stands out in a crowded metropolitan area. Facing busy Oakland Avenue, the signs will gain plenty of attention and generate foot traffic in the store.
The sign package included a face lit channel letter sign with illuminated border and a dual faced illuminated flag sign.
14" channel letter faces are .125 white acrylic with surface applied perforated vinyl film printed to match the client's brand color (brown). The client's logo as well as the sign's border are formed from 3" deep aluminum return painted to match Good Land's orange with pre-finished white aluminum backers. Internal illumination is from white LED's to suit the letters and border. They're connected to a remote power supply.
The flag sign was designed and positioned on the restaurant's exterior to attract the attention of local foot traffic.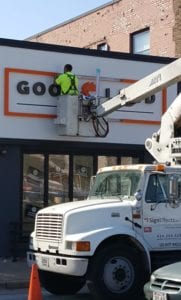 The top of it is aligned with the bottom of the channel letter sign's border for a clean look. White LED's illuminate both sides and show off their logo well. Features include aluminum cladding, 3" x 3" aluminum tube with a welded mounting plate and an LED power supply with access via removable cladding or panel.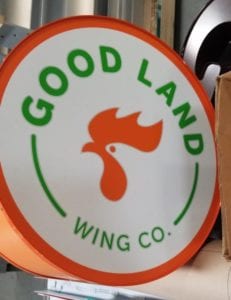 According to Josh Brown, Sign Effectz, Inc. Account Manager, "this sign package does an excellent job of representing the professionally designed branding standards that the restaurant developed. Good Land Wing Company is carving out a unique place in the restaurant scene so it's signage has to be top notch."
#NewRestaurantSign