To be a great sign installer, you have to bring a variety of skills to the job.  That describes the members of the Sign Effectz, Inc. sign installation crew, including James Lorman. #YourSignGuy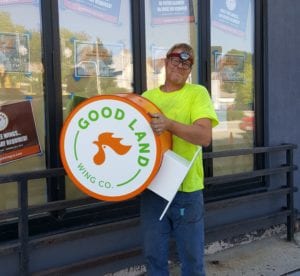 As a twelve-year veteran of the sign industry, James knows what it takes to be a great sign installer.  The job has a number of different jobs built into it, everything from loading trailers to safely unloading signs at job sites to installing signs and cleaning up job sites when installations are completed.
According to James, "our day starts early with a plan for the day and making sure we load our trailers with the components and tools needed for the job as well as the sign. At the site, we carefully unload the sign. We also take a lot of measurement and have to be very familiar with the many different building materials out there.  We have customer service responsibilities at the job site so we are knowledgeable and helpful.  We get involved with electrical work and make sure the power is in place so the electrician can do the final hook up."
James identified the top three things he likes about working at Sign Effectz, Inc.:
Everyday is different from the rest, no job is ever the same. That's because we build and install unique signs.
Working with my fellow employees is a great experience. You can't beat the brotherly bond that goes with this job.
Being outside.
When he's not in the field installing new signs in Milwaukee, James is spending time with his family or playing his guitar.