We're so impressed with the work being done in our community by Habitat for Humanity. The least our Milwaukee sign shop can do is support their efforts by donating Personal Protective Equipment (PPE).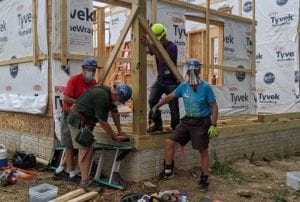 Habitat For Humanity (HFH) volunteers are doing something truly special for our community. Talk about making a major difference!
The non-profit organization "transforms lives and our city by providing simple, decent and affordable housing for Milwaukee families in need." Along with members of the community, HFH helps families build and improve places to call home. They believe "affordable housing plays a critical role in strong and stable communities."
We had the opportunity to stop by and visit with a volunteer crew recently while they built a home. But there are plenty 
of other ways to volunteer with HFH such as administrative and retail opportunities.
According to Adam Brown, Sign Effectz, Inc. President, "Our entire team is grateful for the contribution Habitat For Humanity makes to our local community, the organization is a tremendous asset to Milwaukee. We're honored to donate face shields to their construction crew for extra protection. We produced the PPE in our sign shop and it was truly a labor of love!"