We're going to miss veteran sign painter, Terry Gest. His lasting imprint will be on many signs around Milwaukee.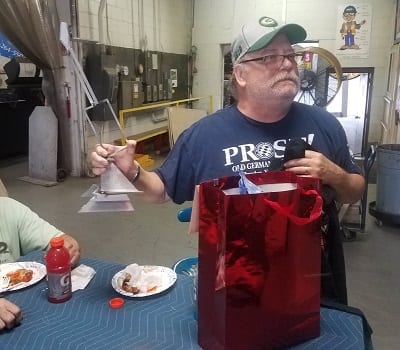 The sign industry has been a part of his life and career for 30 years. And we're darn proud he spent the last five years in our sign shop. That's because he was a natural when it came to solving problems.
Whether it was sign fabrication, painting or wiring, Terry knew his stuff. He just had a knack for knowing how to overcome challenges. For example, Terry has a driving force behind the tiki torches we built for the former Love Shack Polynesian-themed restaurant. We'll always be impressed by how he came up with the right solution for making the metal torches look like real bamboo.
And he was generous with sharing his knowledge with other, less experienced employees. That's the sign of a true craftsman.
Terry told us that life after sign making will include woodworking and other pursuits. But in the meantime, he'll focus on getting used to life without an alarm clock!
We wish you all the best!