One morning, Jerald Rossetti, Senior called home while he was installing a sign. He needed someone to drive his crane truck to the job site right away. The only person home at the time was his fourteen-year-old son, Rick Rossetti. Not wanting to leave his dad in the lurch, he hopped in the truck, fired up the ignition and drove it to the site.
That's Rick Rossetti. If you need something done, he makes it happen.
BORN FOR THIS BUSINESS
At a young age Rick started out holding the paint tray for Jerald while he was lettering trucks. But that wasn't enough for Rick. He wanted to show his dad that he could do much more than menial tasks. So when the next truck came in to be lettered, Rick lettered it. From then on, truck lettering became Rick's job. And his dad was thoroughly impressed.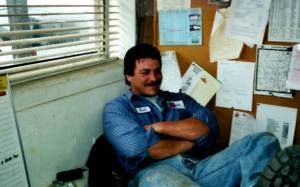 According to Rick, "Working for my dad and from time to time with my grandfather was a wonderful experience. I learned a lot from them and from many other people they had helping them. We not only lettered trucks and billboards, we did hand routed signs, face replacements, new signs, service and install. I learned welding and torching firsthand from one of my dad's friends that was a lifelong steam fitter and certified welder. That's the type of teaching you can't get from a book or a classroom."
IMPACT ON SIGN EFFECTZ
Rick's leadership is seen throughout the company. He's made significant contributions to the company values of accountability and integrity.
For example, we recently had a sign in fabrication and when it came out of the spray booth, Rick found issues with the quality of the build. We pride ourselves in providing the best built products and Rick leads by example.  Under his direction, the sign was rebuilt rather than pushed through and installed even though the customer probably never would have seen the flaw.
We also take pride in having a rock-solid work ethic throughout the organization. And that's in big part because of Rick. His colleagues outside the company will tell you that Rick doesn't stop until the project is completed to the customer's satisfaction.
According to Jim Gorton, Bridgeman Foods Operations Manager, Rick is a devoted sign guy, willing to give up his weekends to help him meet a deadline. And Kenny Gilpin, Affordable Signs & Lighting, described Rick as the guy who doesn't leave a sign installation site until the job is done.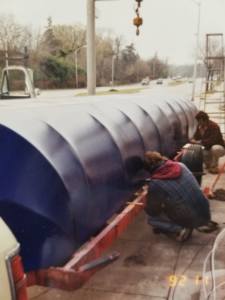 RICK IS HANDS ON
A few years ago, we worked with the folks at the Washington County Fairground Park on the overhaul of their primary signage. It was a large-scale project as their campus covers 133 acres of property.
Rick stepped in as Project Manager and joined our installation team. He performed the structural welding that was needed to modify the existing structure to accommodate new message centers. He also played a big role in building the plywood road that was needed to get the installation equipment safely out to the structure.
Rick describes the scenario: "I chose to do the welding that was needed on the job and I designed the attachment we built for the Skytrax to lift the message units. Also, at that time we had a lot of new hires in the field, so I used it as a training exercise as well."
YOUR SIGN GUY
As they say, "It takes a community to raise a child" and for Rick that community was his Dad, Grandpa and some of the best old school sign guys around. Now, as a 3rd generation sign businessman with the grit, work ethic and industry knowledge to get all of it done, he's truly "Been there, done that" several times over. A real scholar of the "school of hard knocks" with all the education to prove it.
Rick is now quite a savvy businessman. With his fingers on the pulse of every operation that takes place at Sign Effectz, he adjusts and adapts to any and all challenges thrown his way. Just as in the earlier parts of his career, he doesn't leave until the job is done.
In Rick's free time, you'll find him performing custom airbrush and paint jobs on motorcycles. He also does hand-lettering and dabbles in pinstriping.
Rick knew from a very early age that he'd devote his entire career to signs. That's the kind of person you want behind your next sign.