You put a lot of resources into creating a brand that resonates with your customers. That's because keeping a brand current and relevant to your target audience is vital.
With this in mind, we took a look at our own brand. After close examination, we decided it needed a re-fresh. So we cleaned it up a little bit. In the process, our team documented the values that have been behind the Sign Effectz brand during the 25 years we've been in business.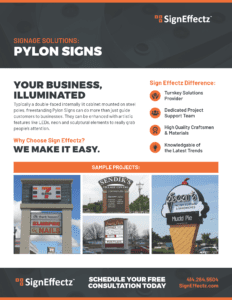 We build products that make an impact. Great signage is all about making the right first impression. Signs are one of those marketing tactics that make an impression you might not even know you were creating. It doesn't come with a thirty-second elevator pitch…just your sign. It needs to communicate who you are and what you do at the very core of your business.
That is why we design, build and install signs for you that strike an emotion and grab attention. The meaning behind our new tagline, "Built For Impact", says it all. You'll be seeing that a lot in the near future as we roll out the new branding, new website and our refreshed logo.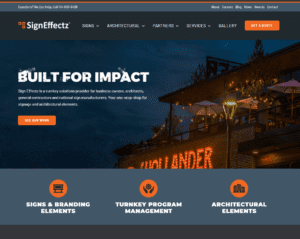 We are also firm believers in follow-through. Do what you say you're going to do. It's how you earn a reputation as a reliable partner, not just an ordinary sign shop.
You expect nothing less than real results and neither do we. We truly appreciate that companies like yours entrust us with building sign solutions for your brand.