Supporting our country's military Veterans is the right thing to do. And finding the right organization to partner with is key. We're very excited about partnering with Veterans Outreach of Wisconsin (VOW). Their commitment to serving homeless Veterans is impressive.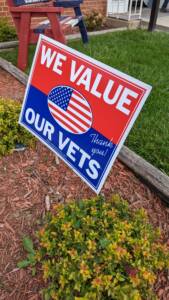 You may know VOW as the driving force behind building tiny homes for Veterans. However, tiny homes are just a tangible feature of VOW's program. They do so much more to help Veterans build a future for themselves.
"Once a resident no longer has to worry about their immediate needs, they can start building for the future. Veteran residents will have the support to hope, plan, and dream for the next chapter of their lives. In addition, our program services such as financial literacy, Veteran peer support groups, weekly wellness activities (meditation, yoga, field trips), job facilitation, and service hours help our residents engage them with the broader community. Finally, program participants will have the stability to know their foundation is more than just one paycheck away from a return to homelessness."
Actions Speak Louder Than Words
At Sign Effectz, actions speak louder than words. So it was only natural that we put our sign experience to work for VOW.
We recently designed, built and delivered two new signs for the VOW campus in Racine, Wisconsin. One for their main building and one for their Veterans Market.  The market supplies Veteran and Surviving Spouse households with food, cleaning products, and other household items.
The new signage brings extra visibility to this outstanding program.