Actions speak louder than words around here. We believe in finding a way to get things done. When we hear about a challenge, we naturally think of solutions. That's the mindset behind why we chose to partner with Veterans Outreach of Wisconsin (VOW).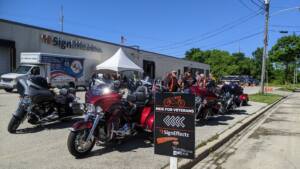 Based in Racine, Wisconsin, VOW works to make a difference in the lives of at-risk Veteran households. It began as a group of volunteers in 2013. They expanded "in 2017 to include a village of 15 tiny homes, a food market, and trauma-informed programming." VOW is a growth-minded organization with sights on expanding beyond Racine into Milwaukee.
One of the things we love most about VOW is that it was founded by folks in the community who recognized a need and took action. We share that inspiration.
It's why we created the #RideForVeterans, a motorcycle ride for anyone who wants to show their support for our veterans. Without our military veterans, we wouldn't have the freedom we enjoy in this great country of ours.
On Saturday, June 18, we hosted roughly two dozen riders. Our 60-minute ride started in the Sign Effectz, Inc. parking lot and ended at Wisconsin Harley Davidson in Oconomowoc, Wisconsin. Riders were greeted there with music, food trucks and a whole lot of fun. And we're grateful for all the support we got in putting this event together, including our sponsor, WaterStone Bank. We're also grateful for Father Dominic Riscolli, who blessed our group of riders and bikes.
"We are incredibly thankful for the work that SignEffectz put in to make this event happen; we have no doubt that it'll continue to grow each year. The support of SignEffectz and our community has created a strong foundation at Veterans Outreach that allows us to continue helping Veterans and Surviving Spouses in their time of need and when they are feeling most vulnerable. To be able to do that is an incredible gift and we are grateful for the SignEffectz team helping us further our mission!" – Zach Zdroik, Executive Director, Veterans Outreach of Wisconsin