Highly effective parking structure sign programs are well thought out. Our sign experts are trained to integrate all the essential elements throughout a project, including vehicle directional signs, pedestrian directional signs, building entrance identification, and exit signs.
Another important consideration is that a parking sign program often serves visitors and staff members in the same structure. Visitors to your parking facility will need wayfinding information, whereas staff members won't.
TYPES OF PARKING GARAGE SIGNS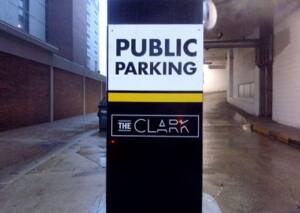 Internally illuminated signs within a parking structure are ideal for locations where important information and directions need to be communicated at night or in low light conditions.
Non-illuminated signs with reflective letters are appropriate for secondary signs. It's best practice for our in-house designers to make all non-illuminated exterior signs with reflective letters and graphics. That's because it helps ensure the best possibility of the sign being read.
KEY QUESTIONS
Our turnkey approach to parking structure signage factors in these questions early in the process:
How do visitors currently drive around in your parking structure?
Where do you want visitors to park?
Where do you want staff to park?
What is the desired path of vehicle travel?
What is the desired path for pedestrians from their parked vehicles to the building entrances?
THE GOAL OF YOUR PARKING STRUCTURE SIGN PROGRAM
At the end of the day, effectiveness is determined by the placement of signs in locations where people expect signage. The goal is for your parking structure signs to communicate and inform in an effortless and simple manner.
Contact one of our sign experts today to learn more about our turnkey parking garage sign program. Let them guide you from start to finish.