Don't underestimate the importance of wayfinding signs in our daily lives. For example, when airline passengers retrieve their luggage, they want the easiest route to the baggage claim area so they can get on with their travels.
Without way-finding signs, imagine the chaos of a plane full of passengers having to wander aimlessly in search of the baggage carousel. The same goes for other wayfinding sign applications: hotels, condominiums, hospitals, office buildings, etc.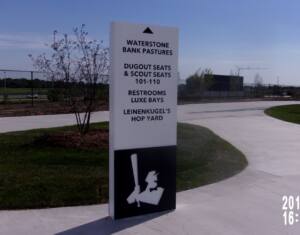 Wayfinding signage brings order to a wide variety of environments. Even sports venues. For example, it's much easier for you and your family to find your way around a ballpark like Franklin Field, home of the Milwaukee Milkmen, thanks to wayfinding signs.
Dual Objectives
In general, way-finding sign systems have two objectives.  They help people efficiently navigate their way to their destination. In addition, they blend into the background when people don't need them.
Which brings me to an important characteristic of wayfinding signs. They aren't intended to define the architecture or the look and feel of the environment. The opposite is true. It's imperative that they reflect the overall aesthetics of the facility.
Where appropriate, the signs must have just the right lighting effects.  Way-finding signs also have to be durable and rugged enough for a heavily traveled area.  Another recommended design element is how to deal with vandalism. The objective here is to make them vandal proof, a daunting task, in its own right.
Getting What You Want
Our clients want their wayfinding sign program to be on budget, on time and they want quality design.
We can deliver all three. However, on most sign projects we collaborate with the client on their top priority. If we're building very high-end signs, quality might be key and schedule flexibility or budget have less impact.
If the project is publicly funded, budget is usually king.  Time or deadlines might supersede other considerations. For example, we know occupancy date is vital for a condominium. For every day a new condo building is not open, revenue is negatively impacted for the owner.
The Sign Effectz team has deep experience in addressing these important needs. Such things as, supporting structure details, solid mechanical design, illumination research and testing, color variation, etc.
A Well-placed Sign May Save Your Life
Perhaps the most important is the set of signs that identify Emergency Exit locations, Evacuation Routes, Hurricane shelters, etc.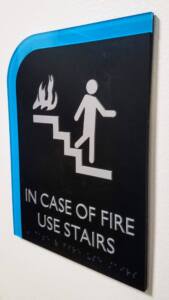 It's easy to take Emergency Route signs for granted, until that moment when they're likely to be the strongest asset we have, potentially saving us from whatever disaster we're caught up in.
How do I get out if a fire starts? This also has to be communicated to blind passengers as well, through the use of brail.  Probably the biggest reason way-finding signs are extremely personal!
Conclusion
When it comes to wayfinding signs, all of us count on clear, efficient directions.  However, I believe signs affect our lives far more than we realize.
Think about it. They affect us on a much deeper level. They're very personal!  These signs are a direct link to finding our way around in both ordinary situations and in emergencies. To me, that makes them highly personal.  And it's a big reason why we're passionate about creating the right wayfinding package for you.
-Adam