We sat down with Adrian Esguerra, Concept/Production Designer, to discover more about what makes #YourSignGuy tick!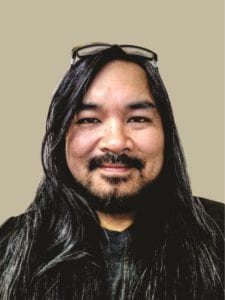 SE: When did you start your current role at Sign Effectz?
AE: I started running the CNC machine here in 2010. In 2012 Sign Effectz was looking for an in-house designer. At that point I was running the CNC machine, plotters and printers. I spent time with Marcus getting him situated in those positions, so I could move ahead with my role in design.
SE: Please describe what you do.
AE: On a concept level I collaborate with our Account Managers brainstorming on sign design. I also implement new ways to approach new situations wherever it's applicable or simply stay within a certain budget.
On a production level, I work with the team to gather all the relevant details, creating production releases to our shop and installation teams.
SE:  What are your professional goals?
AE: I'm presently taking lessons on Turbocad to better illustrate more complex projects and implement 3D Printing technology to the table. Things are always changing in this industry and there will always be something to learn to benefit my skill set. My goals are to keep bringing new ideas to the table both conceptually and on a production level to give Sign Effectz an edge.
My goals are to keep learning and share what I know.
SE: What are your thoughts on the company's position in the sign industry? "We are not just a sign company. We're an art studio." "We make signs that strike emotion, that put a personality behind your sign."
AE: I think this company is competitive getting unique projects thru the shop. As of recently we created signs for Routine Field in Franklin, WI, home of the Milwaukee Milkmen Baseball team. That is one of the largest monument signs we've built so far and I'm looking forward to attending a game and seeing the sign in person.
When I think art studio I think of the signs we cranked out for the Milwaukee Admirals. We built 3D Letters for fans to take pictures next to along with a giant hockey helmet you can fit under ten people inside! We teamed up with local airbrush artist, Chuck Wenzel.
SE: What motivates you at work?
What motivates me is driving around town and recognizing the projects we've constructed, reminding me of what we are capable of. I tell my family when we're driving around, "Hey! We built that!". It's really motivating to be part of a company actively involved in the changing landscape around us.  I'm proud and motivated to be part of this team.
SE: What motivates you when you're not at work? (other than restoring Volvos).
I'm attending the Moy Yat Ving Tsun (Wing Chun) Kung Fu Academy training with Sifu (Master) Tim Lee. I'm focusing a lot on physical and mental awareness. Tim is a 3rd generation Ving Tsun Master under the Famous 'Yip Man', aka 'Ip Man', who trained the famous Bruce Lee. What motivates me is that I can teach my family and friends how to defend themselves. I'll exit with a motivation quote I've enjoyed lately:
"If you always put limits on everything you do, physical or anything else. It will spread into your work and into your life. There are no limits. There are only plateaus, and you must not stay there, you must go beyond them." – Bruce Lee