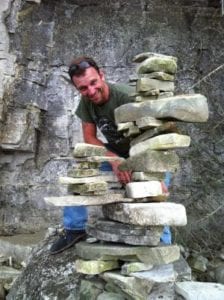 Milwaukee Magazine Interviewed Adam Brown for its June 2011 Issue
Your company manufactures signs as sculptural interpretations of graphic art. What exactly does this mean?
In our mind, graphic art is a design method of working with colors, shapes, text and other content to move the viewer through a presentation in a way that attracts interest and holds it for a period of time to relay a message. The "sculptural interpretation" is how we see signs.   We see them as a sculpture, not just a sign.
We add a 3rd, 4th and even 5th dimension to the presentation. We utilize all the same methods as a graphic designer would with the additional tools being form, texture, light, shadows, motion and many others.  Sign design is typically driven by standardized materials and methods, we don't always see it that way.
How does your work improve these buildings and cities? In other words, what does it add?
In most cases, the work done by our AFX division kicks up the aesthetic appeal of a building.  It provides the building with a uniqueness that separates it from its immediate surroundings.  The Racine Art Museum is a good example of this.  Another is the newly remodeled sign for the "Replay" Restaurant & Sports Bar, located on the east side of Milwaukee (previously the "Twisted Fork").   Scaling 3 stories tall, it adds an architectural element to the building on the east side of Milwaukee.
Do you feel like you have positively affected Milwaukee's art scene? How so?
Our company has been actively involved in Milwaukee's art scene for some time. We are the behind-the-scenes company that designed and engineered the seven, interactive "Wind Leaf" sculptures at the entrance of Discovery World at Pier Wisconsin.  We are currently working on a project for East Wisconsin Avenue called "Pedestrian Drama" to be installed this summer.  It was conceptually designed by an artist by the name of Janet Zweig.
We employ local MIAD graduates for their creative thought process in keeping with our view that signs aren't just manufactured, they're sculpted.
What are you doing that other, similar companies are not?
We assist artists and designers find the right materials and fabrication methods to fit their vision and specifications.  They don't have to "settle" for an ordinary approach to manufacturing their concept.   We support the artist's vision and help them create something that has never been seen before with our experience in project management, material formulation and manufacturing.   According to our mission statement, "We are the company revolutionizing the relationship between art and signage".