When you harness the power of a team, anything is possible! Our recent collaboration with professional artist Janet Zweig is a great example. Many moving parts came together beautifully, helping her creative vision, "Escape Destinations", come to life in downtown Seattle, Washington, where an entirely new public park was built. #teamwork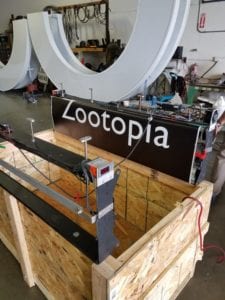 At the end of the day, our job was to engineer and build the enclosures and install a beautiful piece of public art. #publicart
Per Janet's vision for "Escape Destinations", the signs rename the park daily using a different fictional location from books, movies, television, comics and games from the 8th century BC through 2019. You may not know the place but if you Google it, you can learn it. This makes the art truly interactive.
These titles are presented using a scrolling bus sign. These internal scroll assemblies are typically used to identify the buses next stop and the driver changes the scroll to represent it. It is viewed through a non-glare tempered glass opening.
On the backside of the sign is an LED array that represents binary code. It's essentially a computer language. However, code writers for Seattle-based Amazon can understand what it says. In this case, the binary code represents the text presented on the front of the sign scrolls, using a two-symbol system. The two-symbol system used is often "0" and "1" from the binary number system. The binary code assigns a pattern of binary digits, also known as bits, to the LED array.  If you're not a coder, you might not understand what it means but If you google "binary code" It also becomes an interactive part of the piece.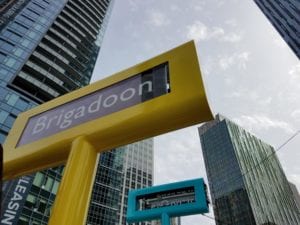 We introduced Janet to Josh Brown and he took ownership of coordinating the project, leveraging the experience he's gained as Account Manager for Janet's pedestrian drama kiosks located in downtown Milwaukee.
Josh worked through all the details with her as we created the technical drawings for housings based on her sketch up conceptual models. This is an important early step in the product development / industrial design process that we perform with artists. Fitting modular parts together to have, not only representation but physical functionality as well, is critically important.
NAVIGATING THE INSTALLATION
Because the installation site was a park located in a bustling area of downtown Seattle, there were heavy amounts of pedestrian and vehicular traffic. We assumed we'd get street closure permits because the plan was to use a large crane truck with outriggers, etc. However, acquisition time was expected to be up to 16 weeks, which would cause a lot of headaches for planning material delivery and scheduling. Our previous experience has been in the range of 2 to 3 weeks to get closure permits.
We came up with several different work around plans. One was to subcontract a local sign company to do the lifts for us with their equipment. We identified one with 2-hour temporary permits. Using this option would require us to perform our work in 2-hour increments. That meant putting together a very intricate traffic plan. We'd also have to move the truck, park and reset the truck every time, etc. Ouch…not the most efficient way to do things, as many of you can guess.
Another alternative plan was to do a material lift using a forklift jack. We could close off part of the park, place it in the appropriate area and not have to close off the road at all. But this would also be very labor intensive and have a high level of risk involved.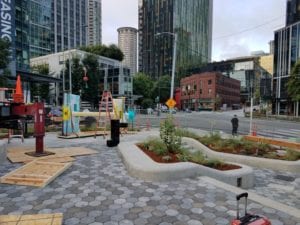 However, when we arrived in Seattle, work on the park wasn't finished and it was still enclosed by a construction fence. Because the park was already closed off, it created an ideal situation for us.  We didn't have to use any other option. Consequently, installation went as well as we could have ever planned.
ENGINEERING & MATERIAL SELECTION
When it comes to the pole's base plates, design and material selection are critical. That's because the base attachment is the highest load / highest fatigue point. Although aluminum is commonly used for many sign products, such as channel letters, it isn't the ideal material in this case. Aluminum fatigues easily compared with other metals.
Fatigue is the weakening of a metal caused by repeated loads. When you apply a load to any metal, it will either endure and deform in a non-permanent way, as long as this is below its yield strength, deform in a permanent way as you get over the yield limit but below its ultimate strength or fails when you overload it[1].
By continually applying loads to a material, in many cases loads way below the yield limit, you stress it and cause fatigue on it. This eventually changes the ultimate strength of the material, making it more prone to fail after several stress cycles.
We came up with several design options including gussets and thicker welds to offset these yield limits. We ran performance calculations in our structural engineering software and they passed.
From a fabrication perspective, one can appreciate the birds mouth joint at the bottom of the sign, connecting the sign to the pole structure. It is seamless and a beautiful piece of craftsmanship.
The brains of the art pieces is a pre-programmed chip actuating and monitoring contrast sensors. Our team engineering partner, Richard Andres, from Alpha Proto, programmed them and built them at his facility in Orlando, Florida. Scanners sense black dots on the back of scrolls that run through the enclosures. They count the number of dots and tell it when to stop and start.
Typically, electronic sensors are very sensitive pieces of equipment and have to be aligned and calibrated to a very finite level. You can imagine, the mounting brackets for such sensitive pieces is another critical element.
During the shipment of the signs, several of these brackets were damaged and broken, leaving us with an inoperable system. With a grand opening of the park right around the corner, we brainstormed a way to manufacture a more robust sensor in the field. We designed a fix for them and re-manufactured them with a reinforcement, in the field. It used pieces of the multiple damaged parts to blend them into one super "Robocop", which was stronger and better than any of the single parts by themselves.
BEFORE GOING HOME
Typically, we run a new art installation overnight and through a handful of cycles before we leave. However, we didn't have that opportunity on this project because the power hadn't been run to the new electrical meter at the time of installation. Instead, we test cycled the system off of an alternate land line and a generator.
CONCLUSION
Engineering, building and installing artwork for public spaces is one of our core competencies. And one of the most important success factors for these projects is teamwork. This team proved it could work well together, coming up with innovative solutions on the spot and supporting one another. It involved the City of Seattle, the Seattle Office of Arts & Culture, a local construction company, an engineering firm as well as our fabricators and account manager. Excellent work!