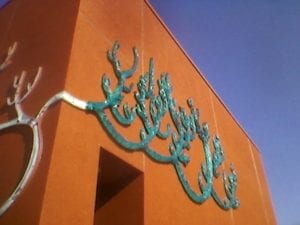 When Deborah Aschheim set out to create a new look for the exterior of the Robbie Waters Library in Sacramento, she envisioned pulsating lights embedded in a concrete structure.  The design would mimic the many classifications of literature that are found in the library's Dewey Decimal System from fiction to non-fiction to reference materials.  Each library classification in the system would be represented by an illuminated branch or limb.
Budget constraints, however, were a major obstacle to the project becoming a reality. Budget is often one of the bigger challenges to design.  It is referred to as "value engineering". In this case to make the vision a reality would require an elaborate (and expensive) set of electrical components and controllers.  Multiple strategies were evaluated…Independently addressable LED's, DMX decoders for each limb, etc… In the end, the option of having live feed data and the methods of controlling the lighting dramatically drove up the estimate of the structure.
Ms. Aschheim turned to her design partner, Adam Brown, to come up with alternative materials and fabrication techniques that would accomplish the original vision but be in line with financial realities.  Mr. Brown and his company, AFX, gave Ms. Aschheim the research & development her vision needed by experimenting with several different fabrication methods to identify the right one for the project.
In the end, the team elected to use fiberglass layup process, a process by which a carbon steel rod skeleton is formed and "sandwiched" between layers of fiberglass, and added a vacuum bagging technique, much like how the hull of a boat is molded.  AFX came up with the right formulation of the resins as well as the method for attaching the ornamental enhancement to the exterior walls, without peritrating the weather tight cladding of the new library. This was critical in not jeopardizing the exterior manufactures warranty.
According to Ms. Aschheim, "I had a design and fabrication challenge that needed outside perspective and I typically look for such guidance from colleagues.  On the Robbie Waters Library project, AFX and Adam Brown stepped in as a creative partner in every stage of the design process. His commitment in supporting the artist's vision helps create something that has never been seen before."  The ideal approach to such projects is to avoid settling for any readily available materials and to do the research and build materials that are ideal for the project's design specifications.