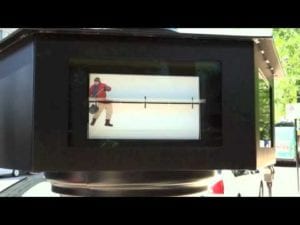 Oftentimes the ideal vision for a project can be a hybrid of technologies seldom-used today and newer technologies. A public art project in Milwaukee led by artist Janet Zweig, entitled "Pedestrian Drama", is a good example. The project is comprised of 5 kiosks mounted on 5 lamp poles each showing 3 interconnected photographic animations or "dramas", printed on successive "flaps". The flaps turn and display the dramas like a flip book, much the way train signs displayed destinations and alarm clocks displayed the time years ago. Each flap unit has 60 images; there are 900 still photographs in all. They are housed in custom-designed aluminum cases and triggered by motion detectors when pedestrians pass by.
Our AFX Group provided the engineering, fabrication and installation of the kiosks. The company utilized a crew of four employees, including the President of the Company, Adam Brown who has worked with Ms. Zweig on previous projects. According to Ms. Zweig, "Selection of a fabricator can be a daunting process, but Adam's company proved themselves to be a very valuable partner on other projects, including a very recent one. Adam and AFX bring extensive know-how in design, materials and technology. They stick with a project and see it all the way to the end."
Enhanced Automation in Menomonee Falls, WI performed all of the electronic work, sensors and thermostat. Built into each kiosk is a high and low-temperature sensor. If the temperature inside the kiosk exceeds the specified range, it will automatically shut down to prolong the lifespan of the internal components. There is also a heater and a thermostat to eliminate condensation. The majority of electronic parts were Allen Bradley branded and programmed with Rockwell Automation software.
Enhanced Automation deployed two engineers for the design and 4 assembly workers who did the wiring and testing. Long before installation, the company ran several hundred hours of tests, including testing the kiosks outdoors during a 100 degree heatwave. On one of the kiosks, they brought the internal temperature up to 146 degrees during testing.
In total, "Pedestrian Drama" was a collaboration that included more than 200 Milwaukeeans. Janet Zweig held a contest for ideas for the dramas, hired directors and performers, both professional and amateur, and filmed the dramas in Milwaukee. The end result is a creative enhancement to the pedestrian experience "on an intimate, personal scale" according to Ms. Zweig. The plan will be to swap out the dramas two more times in the future.