The Milwaukee skyline has several distinguishing features. From the iconic Calatrava Wings at the Milwaukee Art Museum to the unique retractable dome at American Family Field.
So it is with great pride that we participated in a new addition to the skyline. We partnered with J Jeffers & Company on the design, fabrication and installation of the 40' x 40' Miller Brewing Company sign on top of their 22-story downtown Milwaukee building. It's a project that's been in the making for 2 years!
The Essential Elements
Teamwork and project management played critical roles in the success of this sign. Every major phase of the project required expert PM.
Especially noteworthy is the installation. My hat is off to the crew from Ideal Crane. I had complete faith in both of the crane operators, Dale and Matt.
You're at their mercy when you're in the man basket and the crane is extended 325' above the ground (the crane's maximum reach). Even a little movement at the base results in a lot of movement at the top. There couldn't be any rash movements. Want to see video footage? Check out our YouTube channel.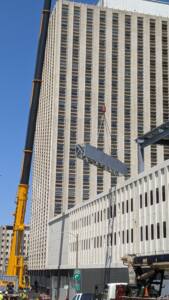 They lifted not only the sign frame, consisting of eight 5' x 40' pieces but, also in removing and setting up the pole structure that served as the primary support for the structure.
Ideal provided a 550-ton mobile crane. It took an entire day just to set up the crane and there were 5 semi-truck loads of ballast weight that anchor off the back of the crane. Ideal also pulled the occupancy permit needed to shut down the street where we parked vehicles and staged components.
We had 3 crew members at 3 different levels of the building communicating with the crane operator during each lift. Our communication strategy was laid out at the start of each day with the Sign Effectz Safety Plan and communication plan.
Partners
Ideal Crane
Ambrose Engineering
J Jeffers & Company hired us to design, manufacture and install the new sign
Old sign was taken down by Clear Channel
Safety Was Top Priority
We put together an entire safety plan for this project and held daily safety meetings to reinforce how important safety is throughout the project and especially at the installation. We also developed a rescue plan that was completely documented (and fortunately never had to implement).
In one of our meetings, I told the crew about the occasional tingle that I felt in my stomach. It's uncomfortable, but it's a good thing because it reminds you of the importance of safety. You have to pay attention to the tingle. It prevents you from being complacent. In fact, extensive past installation experience can be a bit of a detriment. Also, battling complacency is a daily thing. Complacency can set in even within a few days from the start of the project. There were no railings up there. All it takes is one stumble and you could end up over the edge.
You have to shift and adjust your plan to the circumstances around you when you do a high rise sign installation. For example, on one of the days we were scheduled for installation had to be canceled due to high winds. Instead, we came back at night when things were calm.
History
During this project, we were fortunate to access the technical drawings and specifications of the original sign that was atop the building for decades. I was struck by how sophisticated the engineering was.
You could argue that these original drawings were a work of art. We're talking 1967. Long before computers came on the scene! The original sign included 752 sections of neon and 202 transformers. I can only imagine what it took to create something that elaborate at the top of a building more than twenty stories tall.
My Take On This High Rise Sign Installation
We've been fabricating signs and performing sign installations for decades. What set this one apart was that the project scale was considerably larger than most others.
We learned a few important things during this high rise sign installation. For example, we learned about tracking weather more closely with the aid of a subscription-based app. A standard weather report wouldn't cut it. Depending on what type of front is coming through, the weather can change quickly.
We found out that installing overnight between 11pm and 6am were the best times based on the forecasted wind levels. Basically, when the sun comes up it cooks off the dew and the wind picks up at daybreak.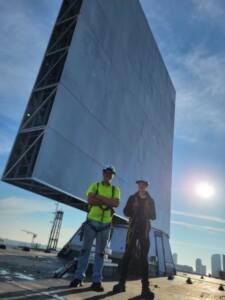 Although there were some sleepless nights for some of us, the guys were fully aware of the risks involved with fatigue. They committed to respecting that risk.
At the conclusion of the installation, our employees were understandably tired and exhausted. They were working swing shifts. We had to be on standby because we didn't know when we'd have to work to take advantage of good weather.
Every team member did very well with safety compliance. We celebrated their professionalism with a special gift, given to each crew member. They enjoyed this work and should be proud of themselves for a job well done. And they can say they were part of making the Milwaukee skyline what it is today.
Two of the biggest challenges were fabricating the massive frames in our shop and putting the 40' x 40' faces on at the installation site. We came through with flying colors on both challenges. Our operations team found the appropriate amount of shop space and perfect location to build the frames and the installation crew installed both sign faces in a total of 3 hours, which is incredibly fast.
Check out our YouTube channel for dramatic drone footage of this high rise installation.
"In the project of reconstructing the iconic "Miller Lite" sign atop the 633 W. Wisconsin Building, SignEffectz was the perfect partner.  From expertise and assistance in navigating the permitting process, to designing and installing a massive and complex sign affixed 20 stories above the street, Josh Brown and his team were excellent partners in delivering the return of the sign to the downtown Milwaukee Skyline.  J Jeffers & Company values their partnership and expertise and is looking forward to many more projects together."

Trei Tatum, J Jeffers & Company