This has been quite a year so far.
Demand for our sign design, fabrication and installation business has been at unprecedented levels. The production, office and installation crews often found themselves stretched quite a bit and putting in long hours. When we needed it most, our team went above and beyond the call of duty.
SHOWING APPRECIATION
You have to enjoy what you do and who you do it with. Life's short. You spend 80% of your life at work.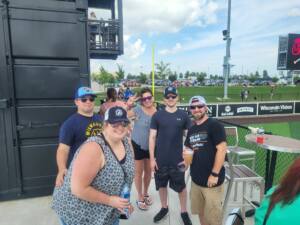 It's vital that we take time to show our sign crew how much we appreciate their commitment. One of those ways is spending time together at the ballpark. Our team and their families enjoyed an afternoon at the Milwaukee Milkmen game.
I can't tell you how important it is to get to know the staff and for them to get to know me and their co-workers. At a baseball game, you're not constrained by the work requirements. Gathering outside the work setting to connect in different ways is an essential part of our culture.
And you never know what you'll learn. Our ADA Sign Project Manager, Cassie, brought her husband to the game. Turns out we did the signs at the company he works for. That may not have come up anywhere else.
BUILDING CHEMISTRY
This sign crew of ours has really shined during an intense stretch. Getting to know each other outside of work improves on-the-job chemistry. I've seen employees work better when it comes to projects, etc. Maintaining the relationships on a personal level supports a great culture and more success.
Most importantly, I wanted to make sure everyone on our team feels appreciated. And this ball game was the perfect setting to show them and their families the appreciation I have for their dedication to hard work.