ACI Industries, LLC is a custom machine shop in Saukville, Wisconsin with a strong customer base and good name recognition. Its new owners remodeled the facility's exterior and interior with new landscaping, paint, carpeting, lighting, HVAC and shop equipment.
Company owners also updated the existing signage, which was based on a thirty-year-old logo. The logo design was outdated and the logo colors were muted.  The logo featured a shade of brown that was less than desirable. They created an entirely new, contemporary logo that looks great on their exterior signage.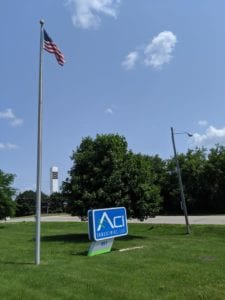 Monument Sign & Building Sign Create Great First Impression
During our early consultations with ACI, we determined that their number one priority was making a good first impression.  We recommended size, materials and locations for their new signage, which included a 7' wide monument sign mounted on a 24" base and face lit channel letters mounted on the building above the front door.
Prior to the new signs, some people driving by hadn't noticed the building. ACI employees reported hearing that some people thought the building was new!
Thanks to the new signage and the new logo, people notice the building. And the customer reports they love how the signs light up at night.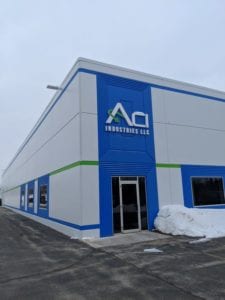 The new signs and logo received high praise. commented, "The end result was fantastic, it really pops!  Our new look completely changed the way people noticed the building. The new sign and new colors were definitely key to that. The back lit feature is really well accepted.  People notice it much more now that it's lit up at night."
Directional Signs Enhance Efficiency
The customer's facility is situated on a corner lot in a busy industrial park. Here's how Brian Conrad, Partner and Manager of ACI, described it, "Because we're on a corner, there are driveways on both sides of our facility.  The front door, which is for visitors and employee, is our main physical address. Our loading docks are off the other street.  We needed to direct all that traffic to the right area.  The new signs direct suppliers and pick-ups efficiently.  Otherwise the steady traffic of delivery trucks is pulling into the employee and visitor parking lot."
The location and verbiage on the three directional signs have worked well.  ACI has received comments from truck drivers that the new signs make it easier for them to know where they're supposed to go. Their job is to pull in, get loaded and get out as efficiently as possible.  The signs help them do their job!