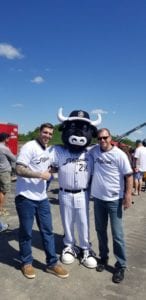 We are very proud of the work our crews did building and installing the new signage at Routine Field, the newly constructed home of professional baseball team the Milwaukee Milkmen. Many of our employees have been out to this new ballpark to cheer on the home team and admire the work our guys did getting everything ready for opening day. #LetsGoMilkmen #RoutineField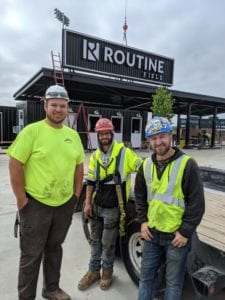 Josh Brown, Sign Effectz Account Manager, put it this way: "This was an exciting project for us. In the company's 23-year history, this certainly lands in the top ten when it comes to scale. This baby's a monster!"
The sign package included:
40' monument sign – halo lit letters with 2" standoff and 4' faux base aluminum stock
12' channel letter sign – Routine Field – ticket booth
43" channel letter sign – Hop Yard
86 3/4" channel box logo – Milkmen
40 ¾" channel letters – Milkmen
6' channel letter sign – press box
7' directional monument signs (5)
2' x 10' sponsorship banners with brackets (12)
Stadium section identification signs (60)
Restroom and ADA wayfinding signs
We used a modular sign approach on the monument sign rather than build the new sign in one piece. We built six pieces and did final assembly in the field. With careful planning and precision work, the pieces nested together beautifully.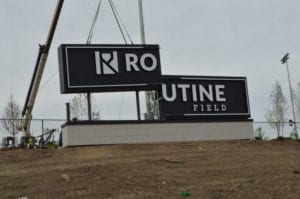 Our sign installation crew demonstrated a number of important skills.  They're often presented with the challenge of making something fit. Do you grind this or drill that? The best laid plans can go astray. Quality installers have good problem-solving skills.
Another important skill set for our sign installers is precision work.  They know the importance of the old adage "measure twice, cut once." For example, our installer precisely measured and trimmed the 6 poles on which the 40' monument sign was mounted. The last thing you want is for the pipe to be too short.
Because the goal was for the stadium to be ready for opening day, the construction site was very busy. Therefore, our sign installation crew had to be prepared to work in a crowded environment with a multitude of trades doing their thing simultaneously. We estimated that there were about 15 different contractors there on any given and about 300 construction workers in total.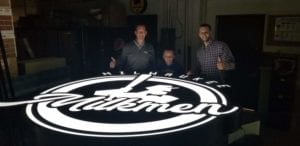 Numerous restroom and ADA wayfinding signs guide fans through the stadium, many with braille and tactile copy.