Delivering exceptional patient care isn't reserved for inside the hospital. It starts as soon as visitors arrive on campus at Froedtert Hospital in Milwaukee.
That's because Froedtert expects nothing but the best when it comes to wayfinding and building signage. They are committed to helping patients, visitors and staff get to where they're going as easily as possible. And we're delighted to assist them in achieving that goal as their sign supplier. Here's an update on our current project.
EXCEPTIONAL COMMUNICATION
Timely and accurate communication is the key to making a wayfinding sign project run smoothly. The client reports that our communication is top tier.
According to Sign Effectz Account Manager Josh Brown, "From day one, we've been thorough with our communication. It doesn't matter how good the sign you make is, communication throughout the project has to be exceptional and they find significant value in that."
SOLUTIONS WE BRING TO THE SIGN PROJECT
For the building signs, closing down the hospital's main parking structure was a substantial task because the high volume of car traffic. We worked night shifts so we could shut down any high-traffic areas. And we set up a temporary wayfinding sign system to direct traffic.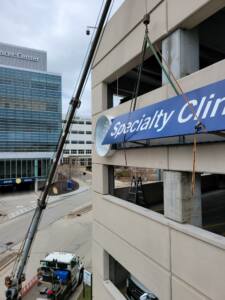 We also created a map of the entrances we'd be working on, where our trucks would be parked and for how long they would be in a given spot. Hospital administrators shared the map with all of their employees. This was an essential part of the timely and accurate communication between our installation team and the folks running the hospital.
In terms of sign design, we were able to accomplish something other companies couldn't. For the free-standing sign's custom cabinetry, we achieved creating a custom frame without compromising the integrity of the unique exterior design. Maintaining hingability is key to serviceability and face changes throughout the life of the sign.
ON-TIME SIGN INSTALLATION
Perhaps the biggest success so far on this wayfinding sign project? On-time delivery. Our installation crew worked through the elements: snow, rain, etc to ensure on time completion.