Synergy is a brand-new studio, 1 and 2 bedroom apartment home community with an industrial edge look. Berghammer Construction, the general contractor, needed a sign company that could deliver on time and could win them over with cutting edge design and reliable materials. 
Of utmost importance to the general contractor and the property management company is meeting the target occupancy date. Therefore, it's crucial for us to deliver and install the identification sign package on time.  We used our experience in sign design, fabrication and installation to make sure that happened.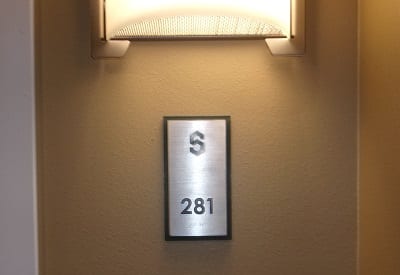 HIGH END DESIGN & MATERIALS
Aesthetics are very important at Synergy. The luxury apartment complex is positioned as being a combination of "the best of all worlds". It offers residents "designer apartment homes, spacious green rooftop lounges, the region's premier dining district and fashion retail hub, and quick access to I-41/US-45."
That meant the design as well as the material selection had to be high end.
For example, the apartment identification numbers featured two layers of materials and the complex's brand insignia. We applied a clear coat protectant over the logo to protect it from fading and increase its longevity and to keep the color vibrant.
Each apartment number was constructed of a 1/8" clear acrylic second surface painted to the client's custom branding color. The second layer was a 1/8" horizontal grain brushed raw aluminum face plate that featured raised tactile copy and stainless-steel braille.
COMPLETE SIGN PACKAGE
Sign Effectz is a one stop shop that helps construction companies complete projects that are code compliant. The end goal is ensuring residents and guests of the apartment complex can find their way around safely.
This wayfinding / occupancy sign package included more than 500 signs, including the following:
Vinyl Graphics for Storage Units
Apartment identification numbers
Installation of convex mirrors to help traffic flow throughout the complex
Exterior door vinyl graphics: logo, numbers, door numbering (required by fire code).
Parking lot clearance bars
Exterior FCO (flat cut out) clearance letters
Trash & recycling identification
Directional signs
Evacuation map holders