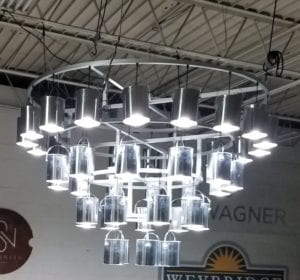 Our client, Yunker Industries, is one of the top point-of-sale (POS) graphics and décor manufacturers in the retail industry. Their customers include consumer brands, big-box and specialty retailers, quick-serve restaurants and convenience stores. Like us, they're committed to excellence in everything they do so we're delighted to collaborate with them.
Yunker had created an in-store chandelier concept and channel letter signage for its customer, Urban Hardware.  The look they sought was a unique, custom branded piece that sets them apart from their retail competitors.  It would evoke retro-elegance and ruggedness. They needed a partner who could bring the concepts to life. Our manufacturing design and fabrication capabilities were the perfect match they were looking for (#BrightIdeas).
We reviewed their concept, including the nuts and bolts of how the chandelier was to be suspended from the store ceiling as well as potential materials. Our team experimented with paint cans – how could they be cut open, how the LED lights could be concealed inside, etc.
Based on our R & D, we created several drawings for the client to review and they were delighted with them.  In fact, they were intrigued enough to want to come visit us to see what else our R & D team could conjure up.
This project presented unique challenges. We rolled aluminum tube into the smallest diameters we've ever rolled in our past experience. That meant we had to ensure we could manufacture them. Then we had to make sure we could effectively conceal the wiring for the look we wanted to achieve. Since our team loves a good challenge, our shop guys jumped right in and rolled up their sleeves to expedite the experimentation.
For the letter sign, we fabricated open faced channel letters with a removeable baffle to allow for electrical and mounting to be concealed and bulbs that had an old-fashioned look, the kind you can see the filament inside the bulb. They're referred to as Edison bulbs and are popular among architects and designers. Their appearance is very different than current light bulbs in that they simulate old school Thomas Edison-era bulbs. They're a perfect fit for this project because they give the store signage a retro-industrial feel.
We fabricated the chandelier and channel letters in our shop. Then wrapped, crated and shipped them to Yunker in Elkhorn, Wisconsin. They added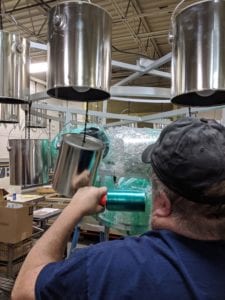 them to the rest of their materials for their project and shipped them on to Atlanta. It was a very easy install for their team, they had it up and running in the store in one hour.
According to Michael Dlugi, Sign Effectz Sales Manager, "this project was a true partnership between Sign Effectz, Inc. and Yunker Industries. The big driver behind their desire to visit with us is that they wanted to see what else we could do. That lead directly to plans for us to help solve several other fabrication challenges they have, including the design and build of light boxes for up to several thousand locations.  We're eager to take their wild and crazy concepts and marry them with our R & D and manufacturing know how."