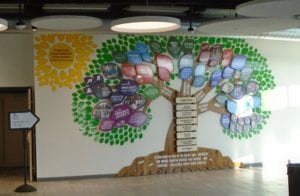 Hiebing is a multi-faceted marketing agency with locations in Madison, WI and Austin, TX. They came to us with a highly unique interior wall mural project that called upon our out-of-the-box research & development, fabrication and installation skills (#WallMural).
What they wanted to accomplish was the design and build of an interior wall mural in the shape of a tree for Summit Credit Union. The tree mural would communicate important values such as Financial Wellness, Community Building, Member Giveback and Customer Owned (#FinancialWellness).
They wanted it to be dimensional and really pop. They also wanted it to feature interchangeable parts so it could be updated by the credit union without assistance from a contractor.
This is the perfect challenge we help marketing and branding firms solve. We took their rough ideas and concepts and made them a reality.
According to Josh Brown, Sign Effectz Account Manager, "This was a great collaboration between Sign Effectz and Hiebing.  We provided them the solutions they probably wouldn't get access to with other companies. On projects like this, our customer has an end goal but not the means to get there. We make it obtainable for them. Our solution was not a common one, it's a good example of how our unique ability gives the client the differentiated look they want."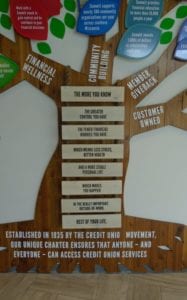 During the design process, we found inspiration in a rather unlikely place. We took the concept of evacuation map folders and applied it to the tree so that they could interchange pieces in-house. Evacuation maps are often found mounted inside two pieces of acrylic with magnets that hold the piece of paper between the two pieces.
This accomplished two main goals:
Make it possible for them to update the mural on their own
Give the mural the multiple levels of dimension, rather just be one flat layer
Our process started with a site survey to measure the curve of the wall. We then proceeded with production drawings, color samples, fabrication and installation. We are happy to report that the client hit their budget.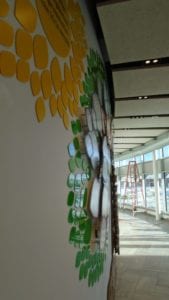 Here's what the Hiebing team had to say, "We approached Sign Effectz with a very specific design of a large scale, 3D wall mural / installation, that included a range of materials and required a specialized approach to material selection, fabrication and permanent installation. The team at Sign Effectz exhibited the knowledge and professionalism we were looking for in a project partner. The installation process went very well and we are thrilled with the results."