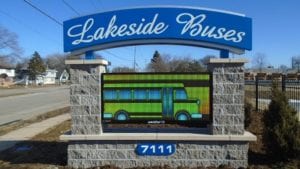 In early 2018, The Dairyland Group moved its flagship Lakeside Buses facility to a new location. Their original plan was to move their old sign to the new operation.
Don Nummerdor, Sign Effectz Account Manager, described the decision-making process, "Although there are pro's and con's to moving an existing sign, our recommendation was not to move it. The old sign was an unattractive metal box that wouldn't live up to their new state of the art building, especially when considering it's located in a higher traffic area.  Moving it wasn't economically feasible either for them." (#HaulingLittlePeeps)
Another big factor in getting new signage, including an Electronic Message Center (EMC), was their desire to communicate important messages to the community. Child safety awareness. School bus safety. Help wanted ads for new bus drivers.
SIGN FEATURES / DETAILS:
DESIGN: Don Nummerdor
EMC DISPLAY: (2) Full color electronic message center from Watchfire. Wireless 4G communication. 16mm. 41"H x 87" W x 5" D.
MONUMENT IDENTIFICATION SIGN: routed aluminum cabinet with Principal brand internal LED's; routed copy backed with white acrylic; paint: match 3M Vivid Blue.
SIGN BASE: Sign Effectz worked with the general contractor, who was responsible for designing and building the bull block and mortar base structure, which matched the facility's building. We supplied (2) 6" x 6" steel tubes to set in the structure.
WATCHFIRE – INCREDIBLE TECHNOLOGY BRINGS A LOT TO THE TABLE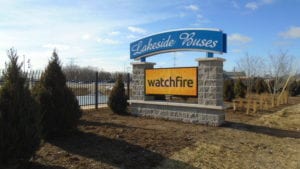 Chad Defenbaugh, our Watchfire representative, performed a very informative product demonstration at Lakeside's facility. According to Chad, "Demo's are a critical part of what we do. It helps the end user determine what size and resolution is the best fit for their application. It also really helps determine product placement on the property. We always make sure and demonstrate dynamic content on the display, this helps them understand what the digital sign can accomplish for them."
Wireless 4G allows the sign owner to control the EMC content from anywhere with an internet connection from basically any device. This is really appealing if the end user needs to quickly change messages due to emergency alerts, weather events or closings.
Here's what our customer, Mark Jordan, President, The Dairyland Group, had to say about the technology.  "The wireless is great so we can change the sign remotely, which we do often. Brightness, colors and display are just fantastic as it really allows us to vividly display our logos, messages, etc. that are extremely eye catching in all weather conditions."
The biggest benefit is the remote diagnostics, which is a powerful feature for all parties involved in the project. As the manufacturer, Watchfire hopes to never have an electronic failure but it does happen from time to time. In the case of a failure Watchfire can remotely access the sign and determine exactly what/when and where the failure occurred. This often happens before the end user even knows there is an issue. This feature also eliminates a diagnostic trip from our team. Watchfire can diagnose the problem and ship the replacement part that same day.
INSTALLATION
The Sign Effectz installation crew is happy to report that it met all the schedule milestones. There was a challenge presented by the nearby power lines which were fairly low. However, with planning and expertise, the crew was able to work around it without any issues.
RESULTS
The new sign package represents so much more than the previous box sign. According to Mark, "Our sign was a huge step up for us compared to our old sign.  Not only do we see the sign as a representation commensurate with our flagship location, but we also continue to find new ways to utilize its abilities for our marketing purposes."