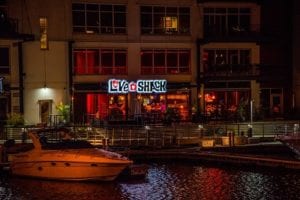 The Love Shack is a new Polynesia-inspired lounge in Milwaukee with "tiki" and crafted cocktails offered with a menu that features traditional recipes and flavors as well as creative takes on classics. It's not just another "tiki bar," the Love Shack pays tribute to long standing traditions in libation culture in a fun and engaging way.
The interior space consists of modern and clean surfaces accented with rustic, authentic textiles and materials.  The owners have created an "atmosphere that's approachable, impressive and in-tune with modern-day expectations for a chic, swanky cocktail lounge."
And the exterior signage was designed and built to support that vision.  Sign Effectz, Inc. Account Manager, Michael Dlugi, sat down with the owners to sketch out on pencil just what the new signage would look like.
They have had experience working together on previous restaurant sign projects such as Red Lion, Brass Alley, and Evolution. That meant that there was a strong sense of trust and chemistry. In fact, Sign Effectz, Inc. was the only sign company they consulted.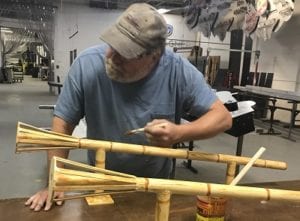 According to Michael, "From the beginning it felt like a team approach, leveraging their creative vision and our craftsmanship.  From our skilled painters to our   recommendations on the scope and size of the sign, this was a team effort.  Together we committed to delivering the best sign experience possible."
The sign is 47.5" H x 216" W overall and is a very colorful representation of the client logo.  It features white ACM backer panel and 3M translucent vinyl film. All black letters are reverse pan halo-lit.  They're painted MP Satin Black and four other client-specified branding colors.  The heart and house parts of the logo are custom face / halo lit channel letters.
To reinforce the tropical island atmosphere, Sign Effectz also built three tiki torches. The owners gave us total leeway on making them cool because they were confident we'd come through. Michael and Terry (painter) collaborated on designing them.  Terry is always looking for ways to creatively express what our clients want to communicate.  He hand-painted each of the torches and added a bamboo grain look. LED light mimics the flickering of a real flame.
Installation was done on schedule, on the Tuesday before their soft opening.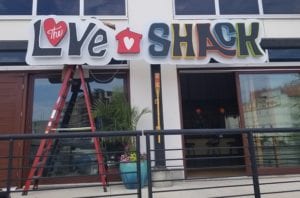 The Sign Effectz, Inc. crew carefully removed the old channel letters and raceway (Wine Maniacs) and connected the new sign, reusing the existing power connections.
The success of this new sign project was due to a true partnership. The owners outlined what their goals were and trusted Sign Effectz to provide the best product for the best price.