Sign Effectz employs folks you should know. Get to know John Dolan, a member of the sign installation team (#KnowYourInstaller).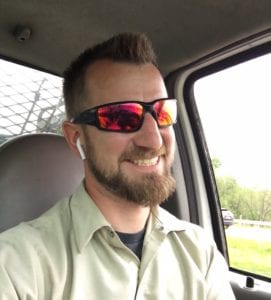 Q: Tell us about your work career.
John: It's important to me to have a good work / family life balance. My work background includes machine operation, sales and sign installation. I started my career at Quad Graphics in 2001. I was hired as a machine operator, honing my skills in that area and maintaining my machine in order to put out quality magazines in large quantities. After that I had a brief period in sales and in 2017 I became a sign installer at Sign Effectz, Inc and have been here ever since.
Q: What makes a great sign (#GreatSignage)?
John: A great sign is one that truly matches the vision that the company is wishing to convey and is installed so that minimal to no repairs are needed to keep the sign working. It should be done effectively and efficiently with a great work ethic and eye for detail.
Q: What would you tell customers to consider when buying a new sign?
John: Consider what the sign looks like during day and night time. The sign should attract people no matter what the hour. What are the elements the sign will be forced live through. Will you invest in keeping your sign in top shape? or putting up an original that will last? Take the advice of he engineers, fabricators making and installing your sign. Sometimes an idea is worth changing or even abandoning in order for it to make a great sign that will stand the test of time.
Q: What's your favorite part about working at Sign Effectz?
John: My favorite part is free donuts in the shop on Mondays. Just kidding! But that would be nice….hint, hint!
Actually, my favorite part about working at Sign Effectz is a tie between a couple of things. First, I like meeting new people and customers, and making them happy, sometimes I'm even surprised by how grateful customers can be at the job I've done. Second, I'm always filled with joy when we are driving down the street and I point out a sign I installed to my family, and they are in awe at the work I've done. Hearing things like- Dad, you worked THAT HIGH up?? Or Dad, is that cool sign one of yours? Or Geez, honey, they need to hire you to fix their sign! – are all awesome things that make me feel like I've fed the artist side of me and I'm helping improve the look of our city, one sign at a time. Last, I enjoy the knowledge I've gained and the fact that I'm actually appreciated and am told I do a good job by the people I work for means a lot to me. At Sign Effectz, there's always new things to learn, new certifications and skills to acquire, and I get many encouraging compliments by the people I work for. That is a very valuable part of my job for me.
Q: What are your hobbies?
John: I enjoy playing bass guitar for my church, and singing occasionally. I have an artistic side that I feed by participating in musical performances. I also like being involved with my church and the good people I serve there.
I love spending time with my family. Going to the zoo, watching movies, and eating my wife's amazing meals tops the charts for me. I throw the football with my son, cuddle with my daughter, and take my wife on occasional dates- usually we take out the Harley and go for a short ride and enjoy a couple hours together. My Harley is my second love.