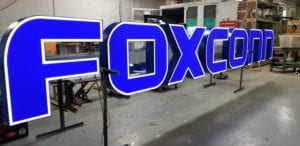 How does a technology manufacturer like #Foxconn ensure employees and visitors efficiently navigate its new large-scale facility near Milwaukee, Wisconsin? They turned to us for solutions.
The first phase of Foxconn Technology Group's LCD campus includes five buildings with a footprint of at least 500,000 square feet, according to plans submitted to the village of Mount Pleasant, Wisconsin. Another five facilities in the second phase exceed 400,000 square feet.
To improve foot traffic, Sign Effectz fabricated and installed a number of way-finding signs in their interior. The ADA interior signage identifying each of their eleven conference rooms helps people determine where their meetings are taking place. Each sign has a professional appearance and individualizes each conference room. There is also a special sign just for the company's command center.
The interior ADA signs are 6" x 6" and feature frosted clear acrylic back painted white with first surface applied 1/32" thick laser-cut applique (for the copy) and braille.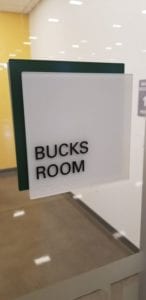 Each conference room has a unique sign color and name, which reflects local sports teams (for example, Brewers, Packers, Bucks and Admirals). This is interior signage Foxconn can be proud of.
The second solution we delivered met their goal of having an attractive look on the interior glass of their Experimental & Training Center. The frosted vinyl across interior glass windows enhances the professional aspect of their work space. It also provides a measure of safety, helping avoid the risk of people accidentally walking into the glass. Full panel frosted glass provides privacy on one conference room.
We overcut the 3M "Dusted Crystal" vinyl film in our shop and trimmed on the job site for a great fit. As a nice touch, the vinyl featuring the Foxconn logo also includes a "Made in Wisconsin USA" brand (#MadeInWisconsin). This message is so important to them, it's the first thing visitors in the reception area see when they arrive.
According to Josh Brown, Account Manager, "Their building sign represents Foxconn to the U.S. and the world. We sat down with staff members to get a complete understanding of their brand and what they wanted to achieve with the signs. On-site visits and conceptual drawings ensured everyone was on the same page and offered them opportunities to give us feedback. And the results speak for themselves!"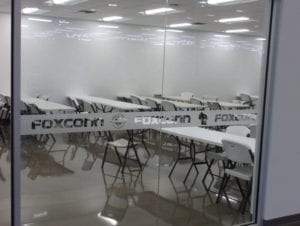 What's up ahead for Foxconn's facility? Sign Effectz designers are currently developing concepts for the company's exterior directional signs.
These new signs will direct the staff, visitors and delivery trucks to the appropriate places and avoid any traffic situations on the Foxconn campus.