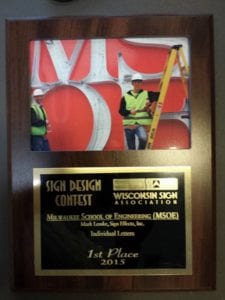 Sign Effectz, Inc. is pleased to announce a First Place award for the building identification sign package our team designed, built and installed for the Milwaukee School of Engineering (MSOE) in Milwaukee, WI.  The competition, Wisconsin Sign Association's (WSA) 2014 Sign Design Contest, recognizes design excellence in a number of categories including Individual Letter Signs.
The top of the new MSOE sign is 160' above the street on the 13th floor of the building.  It features:
The red MSOE cabinet is 16' x 16' x 16" deep fabricated aluminum cabinet w/ SignComp bleed tensioning frame.
Translucent Dark Red Cooley Brite II 20oz flexible faces.
Internally illuminated w/ 250' of Osram/Sylvania 6500K 24v Single Sided Box LED's.
Letters are 13'-3" tall x 5" deep welded fabricated aluminum w/ white polycarbonate faces mounted flush to cabinet flexface to internal framing on backside of flexface.
Letters are internally illuminated w/ 200' of Osram/Sylvania 6500K 12v Backled Medium LED's.
The "University" cabinet is 3'-4" tall x 16' wide x 16" deep fabricated aluminum cabinet w/ routed aluminum faces, white polycarbonate back-up at copy w/ ¾" thick clear acrylic pushed-thru.  It is internally illuminated w/ 32' of Osram/Sylvania 6500K 24v Single Sided Box LED's.
The red MSOE cabinet w/ letters and "University" cabinet together contain approx. 350' of 16 gauge secondary wiring going through the precast wall to the secondary hook-up box directly behind the sign.
About WSA: The Wisconsin Sign Association, Inc. was organized as the Wisconsin Advertising Association in 1970 to enhance and promote the professionalism, knowledge and image of its members and the on-premise sign industry.  Through its programs it seeks to elevate the standards of manufacturing, installation, service, and efficiency in the sign industry.