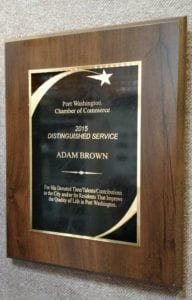 Adam Brown, president of Sign Effectz, Inc. has been selected by the Port Washington Chamber of Commerce for its annual Distinguished Service Award.  The award is based on his donated time/talents and contributions to the city of Port Washington, Wisconsin.
Brown is an active member of the Port Washington Main Street Design Committee.
Brown is also a member of the Port Washington North Breakwater Lighthouse and is working closely with the Mayor on this project.  He applied his professional skills to develop designs for Coal Dock Park.
He has additionally volunteered his time and energy with the Sustainability Committee at First Congregational Church in Port Washington.  Further, his efforts can be seen as he designed and built the Ruach Memorial Sculpture located on the church grounds and has been actively involved in the Creekside Commons space.
His latest adventure was jump starting his son, Josh's, newly established career in business management by transforming the former Sweet Heart Cake buildings into a popular new restaurant Wing It!