Adam Brown remembers having coffee with his mother at her kitchen table back in 1996.  It was time to go over the books (brown ledger at the time).  Adam's mantra went something like this: "mom, don't worry about it; it's only money.  The worse thing that happens is, I have to get a job."
That exchange between Adam and his mother exemplifies the humble beginnings of this sign company.  
There was support from other family members, including Adam's dad, who was a police officer for 30+ years.  Adam describes the family involvement, "I borrowed some money to buy my first aerial truck. My parents considered selling one of their vehicles for investment capital.  My entire family and friends would come into the field, installing signs with me because I didn't have any employees."  
Adam credits a meeting with his colleague, Don Nummerdor, with some of the inspiration.  And Don remembers those early days of working out of the garage; no heat and no front office!  "We didn't have any of the major tools needed – jigsaws, drills, etc. – definitely starting from scratch.  Adam was fabricating everything himself.  My most memorable moment was when we transitioned from the garage to the first building we set up shop in.  It was the realization that this sign company could work. "
Shared Vision
A lot of blood, sweat and tears went into the first couple years.  There were many "all nighters" to get work done.  Adam also found that partnering with folks got him through the first year.  
After the first year and a fair number of phone calls, Rick Rossetti agreed to come on board.  Rick's a third generation sign guy who had worked with Adam at a sign shop, becoming good friends and sharing a vision for how to run a sign company.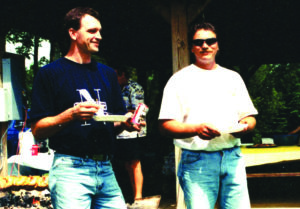 According to Rick, "We were two young men with a passion for the business…When you work with someone and you realize they are one of the best at what they do you build respect and trust for that person.  What a great mix to build a successful sign company.  We got where we are today with the help of many great employees and customers."
The next milestone, operational excellence, fell into place.  With the growth of the company came the need for formalizing accounting, finance, human resources, operations and sales.  
Providing A Living
The company evolved over time into one of Milwaukee's premier creators of cutting-edge business signage.  It required years of proving itself as a reliable and knowledgeable fabricator and installer of custom electronic signage.  It also meant delivering real value to its core customer base of real estate developers, architects and property managers.
Just as important, Adam and Rick find gratification in the company's ability to provide a living for 20+ employees.  Sign Effectz has played a big role in the lives of employees like Nick Dekker, who joined the sign company in 2002.
According to Nick, "this is a sign company that does the right things to succeed. We survived several downturns in the market; we stayed strong with good employees, good management and good ownership.  We change with the times and stay on top of technology.  As fast as things change these days, you have to be able to change with them."
It goes back to responsibility.  It's not all about making money.  According to Adam, "raising a family taught me there is more to life than living for yourself.  Gone is the adolescent mindset.  It's replaced with an attitude of living life for a different purpose.  Employees inspire us.  Giving them an opportunity for a career is very gratifying.  Doing business the right way involves establishing a stable, safe environment for my employees; the same as in the family."   
Making Strategic Moves
2003 marked an exciting time as the product mix diversified.  By now the company had designed, built and installed sun control, canopies, awnings and architectural building components and was developing a niche in the design/build service industry.  The challenges to market and sell these services were difficult. The primary hurdle is in construction and the specifcation documents, most "signs" are located in Division 10 along with such things as fire extinguishers and security systems. Meaning some designers/Architects etc… don't see the true value of what Sign Effectz has to offer in other categories.
This challenge was really an opportunity.  Company ownership created an entirely new division catering to architects, artists and designers. The new division, AFX, develops the methods and materials for manufacturing products for these designers. Complete product development.
According to Adam, "we perform everything from A to Z in the development process.  These services free up the designers to be more creative and lets us solve the problems and/or challenges…sweat the "project kill issues". In the end, we've become more technical than most others in the business. Certainly, more innovative. We take our learnings from product testing, prototyping and engineering and reapply it into our sign manufacturing knowledge base. Ultimately it goes full circle, starting with the knowledge within the sign industry, leading to custom developed products, to reinvesting our new knowledge back into the signs we build today. This adds value for the customer and to our credibility as a resource for them. "
This strategic new division led to collaborations with professional artists such as Ned Kahn, Deborah Aschheim and Janet Zweig to name a few.  The company built product for projects outside of Wisconsin (New York, Seattle, Missouri, Washington) and outside the US (Canberra, Australia).
When it comes to technology and electronics, the company never stands still.  Adam describes the company's long term goals, "We are becoming a far more diverse company and I see this moving somewhere into software and/or programming. There is a large future ahead with dynamic digital signage.  Where does content fit in? Without great content, folks drive or walk right by. Poor content's only a hip shot at your target and rarely will you hit it.  Maybe we'll become a content provider – who knows? Way-finding is ripe for technology advancements.  Imagine putting on a pair of 3-D glasses to find your way through a building!…a simulation of the path through a building before you start the journey. You can get lost without even leaving the entrance".
Passion That Is Contagious
Business success requires a lot from an entrepreneur.  Self-sacrifice means giving up a lot to get a business off the ground.  Discipline and work ethic quiet the little voice that says "maybe we should sell the business" or "Why are we doing this anyway?".  Risk and reward go hand in hand. Nothing's free in this world…You have to lay it on the line and if you lose…take the learning opportunity from it and apply it to the next endeavor, but be persistent.   
According to Adam, "this all leads to the business reality: "I can't stop until the problem is solved."  It's  the number one lesson learned from being an entrepreneur.   This core belief is key to why we're still here."  
Adam and Rick continue their passion for the business and that spills over to employees.  It's contagious.  As any business grows, it gets harder to maintain.  However, self-improvement, striking a work/life balance, adaptability, a healthy company culture and great employees make success possible.