Linda Marcus came to Sign Effectz with her vision for a highly unique design.  She envisioned a brightly lit, old suitcase that expressed emotion and grabbed attention with flashing letters.
Josh Brown, Project Manager, called her to learn about her concept.  Linda wanted to put a short, catchy phrase in neon lighting on an actual suitcase.  It had to be mobile in order for her to bring it to the fashion shows she attends.  She provided Josh with a rough design concept of the wording and image.   She wanted neon lighting on the face of the suitcase because of its ability to catch the eye.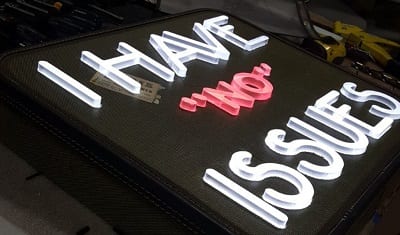 Our job was to recommend the ideal approach to manufacturing it as well as explore other lighting technology so she'd have options.  We especially wanted to give thought to the practical side of taking the suitcase to shows.   Neon wouldn't travel well; it is extremely fragile.  It would be difficult, if not impossible, to get any life expectancy from neon in this application. And who would want to keep it wrapped in foam and elaborate packaging all the time?
So we brainstormed around one question: "How could the design and final product be easier to transport?"  We recommended LED lighting technology.
We showed her an example of a push through acrylic sign box and a sample of LED shaped to resemble neon.  We're the only sign manufacturer using this technology inside a sign.  Using LED would also provide a whole new level of energy efficiency.  LED is up to 80% more energy efficient than neon.
We then moved into the concept stage.  We presented her with several concept drawings.  From there several tweaks were made to the size of the letters and other minor details.  Revisions were a smooth process.  Linda had a definitive idea of what she wanted and we helped her make the design a reality, build it to her satisfaction and deliver it.
Next came fabrication.  She brought us several suitcases and we selected the one best suited for manufacturing.  It had the well-traveled look she wanted.  It even had a "Paris" sticker.  We were able to route through the sticker.  Keeping the sticker on it added to the suitcase's authentic feel.
We built the electrical and LED lighting technology into the suitcase while preserving roughly two-thirds of it to function as storage (afterall, it is a suitcase!).
"We applied our design background and manufacturing capability to make Linda's concept come to life.  The project combined durability and longevity with a highly creative and unique design.  In the end, the bold look she wanted to achieve comes across."  –Josh Brown, Project Manager