Getting its main message to an audience and building awareness are important goals for just about every Milwaukee area church. Falls Presbyterian Church had that in mind when it reached out to Sign Effectz to design and build a new sign.  Church administrators were seeking a serious sign upgrade to their sandblasted wooden sign to help improve the appearance of the property and to showcase their brand identity.
SOLUTION
Our job was to education the committee on the benefits of a digital message center, size of the display versus rate of nearby vehicle speed and what combination would be most effective.  There are many benefits to this digital sign technology:
An industry leading 7 year parts and labor warranty provided by Vantage LED, the manufacturer of the digital message center.
The dynamic grayscale displays bring the church's target audience closer with simple to read text messages and impressive image and video quality. As the church grows, they have the  flexibility to upgrade to a higher resolution or to full color by simply swapping out the modules and adding power supplies; no need to install a whole new display or get a new sign permit.
Free content creation is provided by Vantage. All slides are created for the client based on their input.
An engineered cabinet is designed and built in the USA to ensure strength and weather ability. The unit has extruded aluminum construction with steel supports to minimize weight while maximizing strength.
The church committee also wanted to make sure that the brick accented the church building.  So we showed them examples of brick, vinyls, etc.
OUTCOME
According to Josh Brown, Project Manager, "Our team worked with the church committee, which consisted of congregation members plus the pastor.   We made sure we took everyone's input into account to ensure the new sign reflected their goals.  And we value engineered it into what they wished to invest and stayed on budget."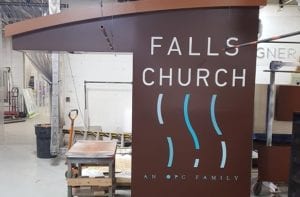 In terms of the sign installation site, it was a respectful removal of the old sign, preserving the existing foliage and plants.
In addition to the digital message center, the new 100" H x 116" W sign is loaded with features:
Translucent vinyl overlay
Routed aluminum face
Routed address numerals for visibility
Several service access panels to make maintenance easier
Welded aluminum tube
Steep pipe set in concrete
Hebron "Brick-Lite" clay brick veneer