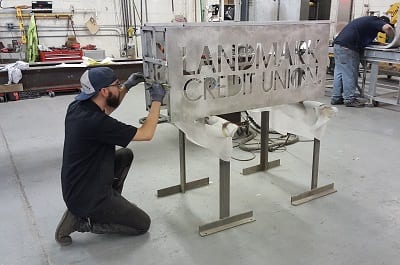 Patrick Walter is a man of many talents.  Custom jewelry maker, metal expert, weekend chef, community volunteer and sign fabricator. When the time came to deciding his career path, Patrick chose metal. He has a Masters degree in Fine Arts – Jewelry and Metalsmithing.
Prior to coming on board at Sign Effectz, Patrick's range of experience included foundry work, metal fabrication and custom jewelry.
Patrick worked alongside a Navajo master silversmith father / son team.  The family boasts of having multiple generations of silver smiths. Patrick describes the experience, "I assisted them in producing one-of-a-kind sterling silver pieces. My jewelry metals background translates well on the large scale like we have here. In fact, Sign Effectz is a great sculpture lab and I get a kick out of finessing the shape of the object."
At Sign Effectz, he's responsible for fabricating and metal forming sign components, primarily in aluminum and steel.  Like all of the sign fabricators here, he faithfully follows the clients' design goals and produces the highest quality product.
His favorite Sign Effectz project was his first one, DiModa pizzeria.   The sign is hung at Humboldt and Brady, which is a busy intersection in Milwaukee, Wisconsin.  He drives by it often, which is very gratifying for him. According to Patrick, the best part about working here is creating things that go out into the public, representing the client's brand.
With his home studio, Patrick continues his jewelry-making skills where he crafts all types of rings, etc.