Fowler Lake Village is a beautifully designed retail and condominium development in Oconomowoc, Wisconsin. Located by the shore of Fowler Lake, it features tons of amenities, an art gallery, luxurious condos and eight high end retailers.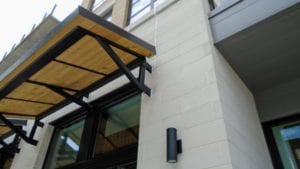 The package we designed, built and installed is complete with canopies, ADA compliant signage and vinyl frosted windows. #completesignpackage
CUSTOM EXTERIOR CANOPIES
Cosmetics are an important driver in choosing canopies. They are the ideal architectural enhancement because they are a practical method for enhancing the aesthetic while improving energy efficiency. They block the sun during the hottest part of the day. Over windows, they protect the building's interior elements like furniture and carpeting from fading. Over doors, they provide protection from the elements for folks coming and going.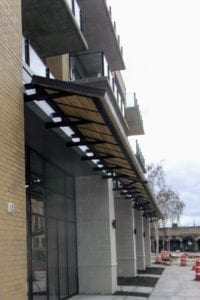 The 18 canopies were installed on schedule, leveraging our "measure twice, cut once" philosophy. We worked hand-in-hand with the onsite contractors on the installation to ensure precise alignment of the canopies. The materials were architecture-specified heavy gauge steel and cedar.
According to Eric Rohs, Sign Effectz Project Manager, "this project really shows what this company is capable of doing. These canopies are second to none and demonstrate the kind of craftmanship customers have come to expect from us."  #customcanopies
INTERIOR ADA SIGNAGE
Given the importance of color to this property, we developed an impressive set of color-coded ADA-compliant signs.  According to Josh Brown, Sign Effectz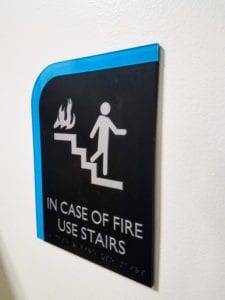 Account Manager, "Fowler Lake is a very artistic condominium development, from the artwork in the hallways to the gallery on the first floor. Each floor has its own accent color. So we created room unit ID signs with room number, color accent and a black backer panel that holds the pieces so they look like one surface."
Each ADA Sign features raised grade II braille and is mounted flush to the wall. Messaging includes:
Mechanical Room, Fitness Center, Storage, Restroom ID, Elevator ID, Elevator Warning, Stair ID
FROSTED WINDOWS
We installed frosted vinyl in order to enhance selected windows throughout the property. The frosted window diffuser creates an eye-pleasing look in places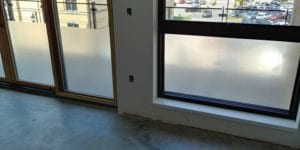 such as the corner overlooking the lake and municipal parking lot. The first step was to meet with the customer.  For the meeting, we brought a vinyl book and gave them the opportunity to choose a color. While we were there, we surveyed the windows and then came back with the materials and applications tool to do the work.