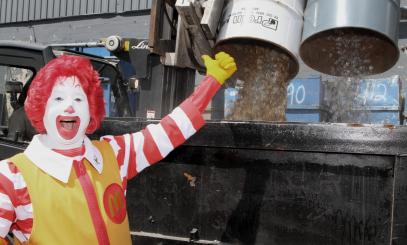 We recently had the opportunity to work with Ronald McDonald House Charities of Eastern Wisconsin by building a pull tab collection house.  You can read the description of the RMHCEW project in the "Our Work" section of our web site.  In this blog post, however, I'd like to share my personal reflection on the project with you.
Randy Brown from United Milwaukee Scrap, LLC asked us to get involved and I'm really glad he did.  And when I met Jacklyn Wahlberg, Marketing Coordinator for Ronald McDonald Charities of Eastern Wisconsin, she described their needs and process for collecting pull tabs.  She also walked me through their facility and described the work they do.   Even though our specialty is designing and fabricating exterior building signage, we wanted to do our share to help them help the Milwaukee community.
Ronald McDonald House Charities of Eastern Wisconsin provides assistance to local families in need with their Pull Tab Toss program.  The "collection bins" make it easy for folks can drop off pull tabs from their soda cans.  The pull tabs are accumulated and sent to the scrap yard to be exchanged for money to support their charities.
Jacklyn's tour of the Ronald McDonald House gave me a great understanding of their depth and size and the details of their organization.  The Ronald McDonald House covers a lot of ground during times of personal distress.  Families come from around the country and the house helps with the things we take for granted in our lives. The families that stay here, have one thing on their minds, the well-being of their beloved child.  So, folks tend to put things like, having a place to stay that feels like home, meal preparation, laundry, etc.  on the back burner.  Physical and psychological neglect  can be an incredibly unhealthy thing, especially, when we need to be at our best for being educated and sometimes, having to make tough decisions.
I was inspired by the opportunity to help.  I can somewhat relate to the value the Ronald McDonald House brings to the table. On a personal level, having distant family members at Children's Hospital for years and thinking of how great this would have been for them makes me want to help out even more.
– Adam Brown