We design, build and install products that have an impact. That impact comes in many different ways. At the end of the day, it's about providing turnkey sign solutions that impact our customer's brand and help them achieve their goal.
When a project is done right, that impact is significant:
Built For You – a collaboration with you is key to bringing you the product you require
Built For Solutions – we offer you a variety of solutions such as value engineering
Built For Longevity – great craftsmanship enhances your product's life cycle, delivering superior value
Built For Success – it's all about your growth, revenue enhancement and market awareness
Built For Attention – great signage is designed and built to grow your brand awareness
Built For Growth – we provide turnkey sign solutions that help you expand your business
Built For Innovation – count on us for R & D, cutting edge creativity and product development
Built For Impact – as in a physical blow or mental impression, through visuals and graphic design that motivate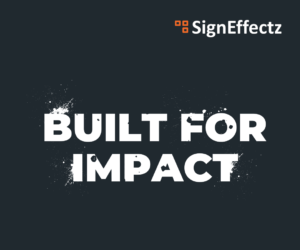 All of the above applies both to our sign products as well as our architectural elements. Every aspect of design factors in impact. We want each client to feel confident in our ability to bring their vision to reality. From sun control devices to cladding, custom lighting and sculptural & kinetic art, our team will deliver solutions that have an impact.