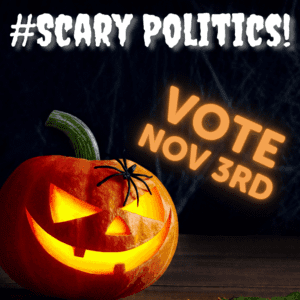 I view elections a little differently now. What happened between 2016 and this election has opened my eyes to the media's influence on politics. It makes one wonder how our system is working or how we even got to this stage.
There are so much politics in the air it's exhausting. My daughter believes there are so many people on each side with something to say, who do you listen to? Where does accurate information come from? Up until now, all of her mentors have been mostly aligned in their beliefs. But the politics of this year have separated that. That's disappointing because they shouldn't be.
As a family, we can and will disagree on some topics, but our core values are always aligned. Or so it used to be. Politics can drive a wedge into a family and its values. Good mentorship and morals are being questioned and at risk of being eroded. So, what else is influencing her besides me? It's a big question and somewhat concerning in these times. Most influences I can think of are driven by fear. COVID19, BLM movement, defunding police, riots, election mudslinging, economy, etc…
I'm not typically very outspoken when it comes to politics but let me tell you another personal story. My sister wasn't feeling well. So she went to get tested for Covid-19. Then my mom and dad got tested. Pretty soon others in our circle of family and friends also became overcome with fear.
When one's emotions are hypersensitive because of a particular fear, other events undergo the same hypersensitive analysis. Every event following becomes more fearful, like eating at a restaurant or just walking downtown. It really starts to get under my skin when that fear affects the people I love. It's like watching some you care about being abused. I want to help but how? And that's where my political divide starts to happen. It prompts me to closely examine who or what is imposing the fear.
An atmosphere of fear has been created in our society that is based around politics in an election year. I find that morally questionable. I don't believe the Democratic party has the same morals I do.
Some might call it being naïve. However, I've trusted my gut my entire life and it's served me well. I don't pass judgement on people without due process. I have more faith in people as a whole than most. I'm a complete optimist at heart. But don't confuse optimism with ignorance.
My employees are a prime example of this optimism. I don't judge them by their history. I hire them for who they are. Any skill set is trainable. But good moral fiber is much harder to instill.
This is the conflict my daughter is dealing with. Moral fiber was instilled in her a long time ago and is a true, wholehearted, loving fiber. As such, she wants to give the Democratic party several more chances, because they tout community support programs. But there's a catch lurking in the background of greed and power. The thing most don't want to hear or believe.
I was taught to give credit where credit is due. There are a lot of things the current president and his administration are absolutely right on. The economy was on a strong upswing. This is a guy that has never been in politics. It's unreasonable to expect the guy who's been in there for a few years to accomplish what seasoned politicians haven't done for decades. He needs support, as anyone does, but yet is constantly scrutinized and judged for less than important topics.
Can we not agree that we all care for this country and our families and that we should all work together to solve our collective problems? We focus so hard on how the opposition is wrong, we forget that we're on the same team and about the goal we're both fighting for.
Politics shouldn't be scary. It's a sad state of affairs and I pray for our Country.