We'd like you to meet Ryan McBride, who joined the Sign Effectz team in the shop last summer as a Sign Painter. This post shares his thoughts on working for a commercial sign company.
What makes a great sign according to Ryan: building great signage requires teamwork, organization and quality control.
One of his most interesting projects: We just completed a great looking sign for The Bindery, a "creative laboratory for book, print and literary art in Milwaukee." This highly unique sign had a lot to it. Hand formed letters as well as textured paint for example. And the letters and the border featured neon.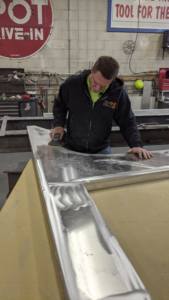 Ryan's favorite part about working at Sign Effectz: seeing a new sign all come together. Before joining Sign Effectz, I didn't spend any time thinking about all the little things that go into a commercial sign. You don't realize there's a CNC machine forming the letters, welders putting together multiple separate pieces and all of the other steps that go into making a sign. It's very cool and very rewarding from a sign painter perspective.
Previous employment: Prior to joining us, Ryan was a painter at Honda City's body repair shop here in Milwaukee. He worked side by side with a mentor, learning the finer points of painting and perfecting the craft. Everything from masking to priming to feathering.
Ryan's Hobbies: I'm more of a sports spectator than a doer. I mainly follow Brewers and Packers. Spending time with family, getting married this summer. I bought a Harley last year so I like to get out as often as possible.