The River House Apartments in Milwaukee, Wisconsin consist of new U-Shaped buildings located along the Milwaukee River.  The project also includes expansion of the Riverwalk with public access at three locations from Water Street to the riverfront.
The Sign Effectz team provided general contractor, Greenfire Management Services, LLC, with a complete package of sign design, sign fabrication and sign installation.  The new sign is a 20 foot tall dual faced illuminated banner sign. The main cabinet and logo cabinet consist of aluminum tube with push through acrylic letters. Illumination source: enclosed LED's create an exterior edge glow. #CompletePackage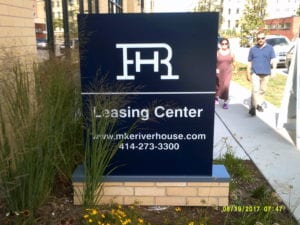 According to Sign Effectz Account Manager, Josh Brown, "We worked with Greenfire to make sure we hit their budget requirements and project timeline.  Our team worked seamlessly within the project schedule to ensure we're not in the way of their other subcontractors."
Other projects involving collaboration between Sign Effectz and Greenfire include awnings, canopies, monument signs and interior ADA signs for business and retail settings.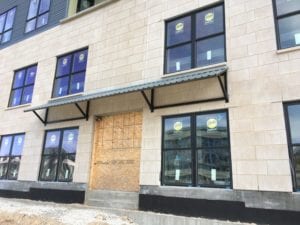 "When I need a reliable and creative sign company to assist with a new sign, Sign Effectz, Inc. is there for me. Their customer service, design expertise, accountability and professionalism are excellent. I would recommend using them for your next sign project." -Paul Hackbarth, Greenfire Management Services, LLC (#ReliableAndCreative)