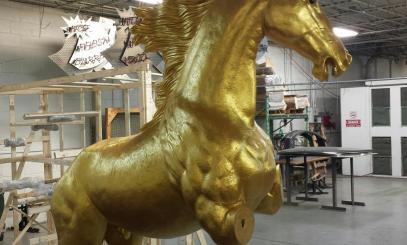 New Unicorn For Las Vegas Casino
The Unicorn in Progress
How many sign shops in Milwaukee have seen a golden unicorn come through the dock door?! Thanks to a very diverse customer base here at Sign Effectz, we see lots of interesting projects like this one come into our shop.
In this case, a very good customer that creates custom point of purchase displays enlisted our help with a golden unicorn for a casino in Las Vegas. In the casino business, you keep high rollers happy with a lot of glitz and glamour. Case in point: high rollers that win a substantial monetary payout at the slots or tables are treated to very expensive champagne. In fact, a bottle of the champagne served in this particular casino goes for $4,000!
And you can't deliver a bottle like that on just a tray. You deliver these bottles on a golden unicorn with an illuminated mane and tail.
So the client developed the unicorn concept, had one built and then shipped it from China into Las Vegas to have it painted and mounted on a base. It was at that point they decided to illuminate the mane and tail with fiber optic cables.
DECISION TIME
They came to us and it was decision time for our project team. Can we help them out? We said yes and then did the problem-solving to figure out how to get it done.
The light source needs to be battery powered, rechargeable and hidden within the unicorn's body. We laced the hair with fiber optic, single strand, 300 ft long. The plan is to develop a power pack module that gets mounted inside the belly of the beast along with the cables necessary to carry the power to the light source. The fiber optics on the mane get encapsulated with epoxy.
Here's the rest of the details:
12 volt uninterrupted power supply.
AC power entry module, male socket for charging.
6/12 volt smart battery charger 3.8A
12 volt 18 hour battery.
Project requires fiber glass work, embedded inserts.
NEXT STEPS
Our fabricator will do a "c-section" to place the electronics inside. Once that's done, we'll package it and ship it back to Las Vegas. The winners in the casino will get a bottle of champagne they'll never forget. All I can say is, there is never a dull moment at Sign Effectz! Stay tuned for Part Two of this story – arrival of the unicorn at the winner's table in Las Vegas!!