There's Topgolf and then there's Topgolf Swing Suite! If you're a golfer, you may be familiar with both brands. Topgolf's brand in the luxury market is Topgolf Swing Suite.#fullswing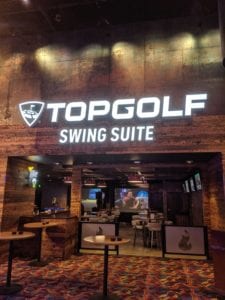 Topgolf Swing Suite describes itself as "an ideal "nontraditional space to add to an existing property or venue. In addition to positive brand association with the Topgolf name, Swing Suite provides an opportunity to generate additional group event sales through food and beverage revenue or ancillary revenue by improving guest retention."
They provide an "immersive social experience" in luxury hospitality and entertainment venues across the US. That means the bar is set high when it comes to new signage.
We built and installed a face-lit, flush-mounted channel letter sign for the new Topgolf Swing Suite at Potawatomi Hotel and Casino in Milwaukee. Sign Effectz, Inc. Account Manager Josh Brown had a proactive mindset during the early stage of the casino's new sign process. #channellettersign
According to Josh, "We met early to discuss the steps necessary to build and install their new sign. We want to be a valuable asset to our customers. When it's appropriate, it's our job to provide education on the finer points of new signage. And the right time to review critical details is on the front end.  For example, we asked for an access panel in the walkway, talked through the electrical hookup and went over other critical details about installation. This is in addition to the sign survey."
Here are the details on this great-looking channel letter sign.
Logo badge: 2'6" H, 3M Matte Black Vinyl Film
Topgolf letters: 1'9" H, Swing Suite letters 1'3" H, 3M Matte White Vinyl Film
Overall width: 17'5"
LED's: Streetfighter mini – Natural White